"Washington? Why would you go to college were it ALWAYS rains?!"
I was on the receiving end of this statement many times this past year as I shared with my friends that I wanted to come to Washington, specifically UPS for college. Coming from Hawaii, the state of eternal sunshine and moving to the Northwest of rain, doom and gloom, my friends thought I was crazy. Yet knowing how rainy Washington was supposed to be didn't deter me from coming to UPS. I was more than willing to love the cold and learn in a completely new environment, specifically a community that shared similar values as I and help me achieve my goals. However, I was blown away by the presence of the fog that has permeated our mist.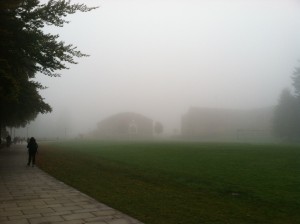 A couple of weeks ago the fog started to roll in, and it never left. Sometimes it would be so thick when you woke up I couldn't see Wyatt Hall from T/P. On that first day I couldn't believe my eyes, the thickness of the fog completely obscured anything more than 20 feet in front of you and walking through it left a layer of moisture all over your body. As the days went on the fog persistently hung around, and I could see as the night wore on the fog getting thicker and hitting its apex in the morning. When we went out for our first morning crew practice (at 5AM mind you) the fog was so thick we couldn't see the docks from the boathouse and the lights along the shoreline slowly faded into blots of light, it wasn't a very productive practice always trying to watch out for other boats on the water. I was actually quite terrified of hitting the other boats, or even the shore, I had no way of knowing is something was nearby until I was nearly right upon it. The fog continued to surprise me even rolling over Baker Stadium during a football game a few weeks ago. I could barely see the bleachers on the opposite side; I don't know how the players could see past their masks and the fog! The fog brought a different kind of cold and layer of shadow over campus.
The fog was a completely unexpected surprise but I think many things at Puget Sound continue to surprise me in many good ways. It's wonderful learning in this new environment, living with new people and becoming a part of the Puget Sound community. The rolling fog is so amazing to watch and although I may not be able to always see what is directly in front of me, I'm slowly becoming familiar with this campus and know how to find my way to where I want to go. Dealing with the fog is very much like dealing with college and the next steps of becoming a contributing adult in the world. And sometimes the most surprising things offer the best insight you never thought you'd receive. When I go back home the first thing I'm going to tell my friends and family is, "Did you know that Tacoma is more foggy than rainy?"