This post may be a little unlike the typical blog activity here, but I just thought this would be worth sharing.
A couple weeks ago, some friends of mine introduced me to the Katsuyuki Moray blog. It's basically just this adorable blog that documents the worldwide travels of an eel plushie named Katsuyuki. Lately, Katsuyuki has been trying out new professions in Washington state, and he decided to visit our campus to see the sights. My friend Carrie invited the lovely person who runs the Katsuyuki blog to UPS, and then spent a day showing her (and Katsuyuki) around campus.
Katsuyuki tried his hand at being a librarian in Collins:
And then he tried out being a radio DJ at KUPS: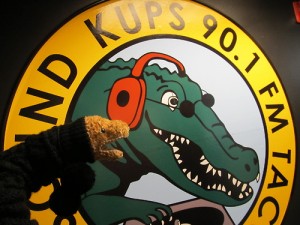 He even tried to pass as an average logger:
I think the look suits him, personally.
You can see these pics, as well as many more of Katsuyuki exploring our campus, at katsuyukimoray.tumblr.com. He certainly seemed to enjoy his stay!