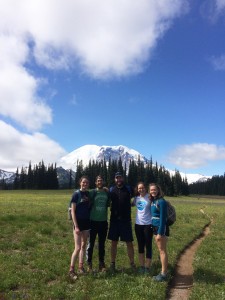 Weeks before the summer even began, Dr. Bryan Thines, PhD, my research advisor and a professor of biology and genetics at Puget Sound, challenged me to a beard-growing competition. "I like to have friendly games within our labs," he told me after I received my research grant. "It encourages both competition and camaraderie." I had already been pranked once by my lab after I misspelled the word "assess" on a poster for a presentation, so I should have assumed that our summer work would be just as mischievous as the previous semester.
I and two other students, Lily O'Connor and Tina Chapman, are working hard to characterize F-box proteins in Arabidopsis thaliana through molecular, genomics and bioinformatic approaches. Through weeks packed with genotyping, gels, culturing, cloning, harvesting seeds, and extracting DNA, we have finally begun to identify knockout lines, develop gene constructs, and locate brand new candidate genes for further study.
Throughout the hard work we're putting in at the bench, our lab has found additional ways to entertain ourselves. Any given day often alternates between lab meetings discussing research progress, thesis writing sessions, miniature genetics or molecular biology lectures, bench work, and discussing how many grilled cheeses we have each eaten since our research began (I'm in the lead with 39).
Lily, Tina and I are entering our final year at Puget Sound, and we collectively decided to capitalize on our mentor's time by bombarding him with questions about scientific writing, life after college, applying to and attending graduate school, how to make the best cup of pour-over coffee. As we enter the penultimate week of our ten-week grant program, our lab has collectively grown countless pots of plants, run dozens of gels, eaten 117 grilled cheese sandwiches, and grown two significant beards.
Ryan Apathy's summer science research at University of Puget Sound is supported by the M.J. Murdock Charitable Trust's Science Research Program.