Hello! My name is Casey O'Brien. I'm a freshman here at Puget Sound. I am a part of the Humanities program. I love theater, creative writing, and the outdoors, among lots of other interests! At this point, I am thinking that I will be a Sociology and Anthropology (SOAN)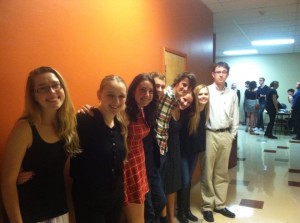 major with a double minor in Theater and Latin American Studies.  I come from the Bay Area in California, so the lovely fog and rain in Tacoma is home to me. I grew up within ten minutes of the SF bay, so I also love being on the coast.
I am learning so much here on campus! There's always something happening here, so there is never an opportunity to feel bored. This weekend was a special one for me, because I was a director for the Town Crier Speaks Festival, our student theater festival, which went up this weekend. Town Crier is a one act festival written, produced and directed by students—it is such a unique and wonderful venue for Puget Sound creativity. My own show, Game of Life, was a truly incredible process. My cast helped me to grow as a person and an artist, and I feel so lucky to have met them. What is so very interesting and dynamic about our campus is that people from so many different areas—ages, majors, etc—can interact and learn from one another. One of my actors is graduating this semester as a Biology major; with my interests, we might never have even met, let alone gotten to know one another, at a different school.   At a larger university, or a university that didn't encourage students to try new things the way UPS does, a first semester freshman would never have directed a one act at all.
Town Crier opened on Thursday night and closed on Saturday, which meant that today was definitely bittersweet for me.  My parents, here visiting for Family Weekend, went home to California today, but my sadness at watching them go was matched by the contentedness of knowing that I have two homes now, one in Washington and one in NorCal. Our president, Ronald Thomas, aka RonThom, famously opens his speech at orientation by saying "Welcome Home"—and truly, we are. Puget has stolen my heart—from the moment I stepped on campus, doors have been opened for me.
This been a weekend of beginnings, endings and special moments. When my cast handed me the big bouquet of red roses they had bought for me, a handwritten card on top, I felt like crying for joy and sadness all at once—which is a good sign. Puget is a place where students will make connections, will feel deeply. Loggers are genuine, and they throw themselves in. In the spirit of the Northwest, we'll always go on an adventure. We show up—as Town Crier's full house and standing ovation testifies. This has been a weekend to remember…. Just as so many here are.