When I was a kid, I loved game shows. The excitement, the pressure, the prizes… I loved all of it! Among my favorites were The Price Is Right with Bob Barker and Supermarket Sweep. (Check Netflix for the latter. It's hilarious and makes you want to run through the grocery store to find the broccoli.)
Fifteen years later, I found myself living in LA, working in my first professional job at a local university. After listening to colleagues talk about attending game shows, television filmings, and award shows as seat fillers, I decided to pursue my childhood goal of becoming a game show contestant. But the process wasn't entirely clear cut. In fact, it turned out to be almost as complicated as  my finding my job…
When I arrived in Los Angeles and heard about colleagues who'd won a dream BBQ set, or students who'd won a Smart Car, my first thought was "sign me up!" I quickly registered to attend a game show taping – one that required costumes! I printed the ticket and bought a costume. I imagined the process would be: Go to the studio. Sit down. The game show starts. They pick you. You win!
In reality? You go and you wait in line, maybe for an hour. Then you wait another hour or two while the producers interview the audience. The producers then place you in seats where you continue to wait until the show starts. It was fun! But during the interview process, I learned that my costume had a copyright, so I was disqualified from competing.
I was disappointed, but I was not deterred.
Months down the line, I joined a group of colleagues who were going to the same game show as seat fillers, to fund raise for upcoming student staff trainings. Determined to be selected this time, I made costumes from scratch. Using cardboard, colorful paper, and paint, I created themed costumes for three of us. We were breakfast favorites: Bacon, Eggs, and Toast. I was so excited – certain we would be chosen. But the other folks in my breakfast trio weren't nearly as excited. They just wanted it to be over. Needless to say, even with our fun costumes, we didn't catch the attention of the producers.
Flash forward a month. In another attempt to fund raise for student staff trainings, I went to the same game show with 40 of my enthusiastic student staff members.
Before going, I prepared for the interview and chatted with previous contestants to learn their game show secrets. Their suggestions: Pick an engaging costume! Show off your energy and enthusiasm! Have fun! And most importantly, chat with the producers!
Based on the advice I received, I chatted with producers while waiting in line and added my own flare by dressing as a pink cupcake. Lo and behold, I was selected to be a contestant… and won!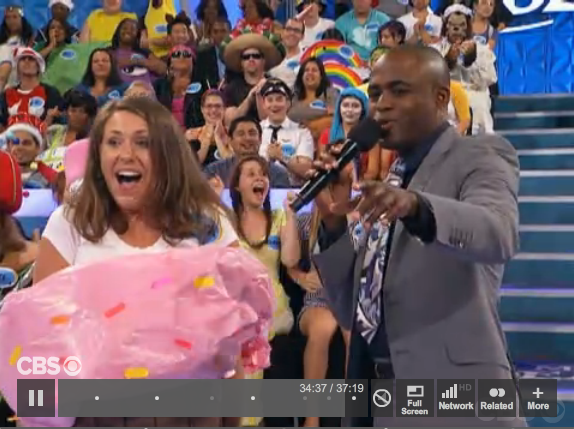 My first time through, I'd expected to be randomly selected and then (of course) win. In actuality, the steps looked more like: 1) Watch and know the show. 2) Reserve tickets/print in advance. 3) Read the fine print about participation. 4) Arrive on time and bring ID. 5) Exude your highest level of energy. 6) Charm everyone you meet. 7) Have fun. 8) Be chosen by producers to compete. And 9) Win!
In hindsight, becoming a game show contestant was a lot like going through a job search.
My assumption was that, to get to job: You write a resume and cover letter, then you send them to an employer. You have an interview where they agree that you are amazing. And bam! you have a job. But that isn't how things went…
I completed my graduate degree in 2010, when the recession was still hitting hard. I applied to so many positions, both in my field and beyond. For the majority, I never heard back. Or I received a "thank you for your application, but we are pursuing other candidates at this time" message.
It was hard to receive and harder to stomach. I internalized much of it, thinking that maybe my experiences weren't as valuable as others' were. I doubted that I was ever going to get a job in which I felt challenged.
What I didn't know at the time, was what it actually took to get a job.
I thought the steps of getting a job included: 1) Apply. 2) Interview. 3) Be hired. And I was consistently disappointed. What I learned through trial and error, through mentors, and through experience, was that those three steps were just the tip of the iceberg.
There are actually several steps: 1) Research the job market. 2) Determine the jobs/employers that you'd like to work for. 3) Meet professionals from that field and/or organization. 4) Build your professional image and reach out to your network. 5) Learn about open positions from connections in your professional network. 6) Submit a job application along with polished materials and documents. 7) Inform your connection at the organization that you applied for the job. 8) Interview and articulate the value of your experiences. 9) Thank your interviewers. (Repeat 1-9 until…) 10) Receive an offer. 11) Evaluate the offer. (Still want the job?) 12) Negotiate. 13) Accept the offer.
Things really changed in my job search when I reached out for help. I contacted my mentor who encouraged me to apply for a role at their university in Los Angeles. I'd never considered moving across the county to Southern California – I felt nervous but I remained open to the idea. I took advice on what to highlight in my application materials. When I was invited to interview, I prepped fully for both the phone and in-person interview. When they extended an offer, I reviewed it, negotiated reimbursement of some moving costs, and then accepted the offer.
What these two experiences have in common is that they are both rooted in self-awareness, networking, relationship building, and preparation. College, especially a liberal arts college like Puget Sound, provides opportunities to perfect these skills. Sometimes you just need another person's perspective to help you re-frame and re-strategize in order to keep moving forward.
Whether you're planning to compete on a game show or for a job opportunity, Rebecca and the CES team of career advisors are here to help you make it to the bonus round! Schedule an appointment via Handshake.

© 2020 Career and Employment Services, University of Puget Sound