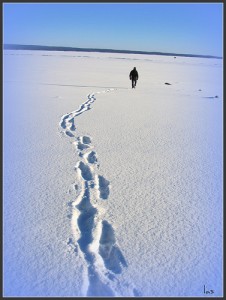 In recent weeks, a number of alumni and other speakers have been on campus talking about their career path and advice they would offer students. The concept of "leaving a trail" emerged as a common theme.
We often think of a resume as the go-to resource for applying for positions. However, it's important to think more broadly. Yes, absolutely, you need to have a great resume. But it's also important to think about other ways that you can demonstrate to an employer the skills and competencies you bring to the table. Many of you (if not all) are already leaving a trail; the next step is to showcase relevant items to a prospective employer.
"Show, don't tell" that you can do the work, says Lloyd Tabb, Tech Industry Titan. "If [an employer] is interviewing two candidates, and one has a portfolio demonstrating what he has produced or made, and the other does not, which of the two do you think will get hired?"
Jim Sharp '75 of Comedy Central talked about the ways some of the talent got their Comedy Central gigs—some started on YouTube including the popular Workaholics. In fact, Jim said that there are staff members at Comedy Central who look at YouTube to discover budding directors, writers, and actors.
Cindy Hammel '02 who has worked in advertising across the globe talked about how many companies are now turning to consumers to create their advertising like in the Doritos Crash the Superbowl Ad contest.
You don't have to win a contest or be discovered on YouTube to leave a trail. There are many ways to do so; in fact, you may already be doing some of these:

Write a blog Nani Vishwanath '09 showcases her handmade greeting cards via her it's in the cards blog. Is there something you're passionate about? Consider writing a blog on the topic as a way to demonstrate your creativity and writing skills.
Develop a website Have you developed a website for a student organization? If so, consider highlighting it on your resume so prospective employers can link to it and view your work. This is an easy way to highlight your web development or graphic design skills.
Create a portfolio Do you have copies of articles you wrote for the Trail, photographs of art projects you've completed, or charts and graphs of a research project you did for a class? Sometimes showcasing your work is as easy as downloading it onto a CD and leaving a digital portfolio with a prospective employer.
Make an instructional video Do you have a skill that you'd like to share with others? Recently, I wanted to learn to use royal icing to flood a sugar cookie. A quick google search turned up both an instructional video and blog on the topic. Instructional videos are means of showing your communication/presentation skills.
Write a newsletter Are you in an organization where you need to get information out to members quickly? If you create a newsletter, that's a great example that documents and highlights your writing skills to prospective employers.
Think about what you're doing. What do you have to show your work? All of it is part of your trail.
A few closing comments from members of the Alumni Council Career and Employment Services Committee:
"Resumes we've received that include a link to a portfolio helps show the candidate's style and tone." Shannon Hughes '92, Weyerhaeuser
"We continue to get a high response rate for positions we post. Providing a way to differentiate yourself to standout from the typical 'white [paper] documentation' really adds value." Lacey Leffler '03, The Broadway Center for Performing Arts
"Remember, a resume is supposed to lead to a discussion and anything else that can add to that conversation is valuable." Wes Jordan '74, St. Mary's College of Maryland
As always, it's important to be professional about your trail. It's about telling your story and highlighting your relevant experience. Make sure you're representing yourself in the best light.
Other ideas on how you could leave a trail? Enter a comment below!
Photo: las – initially
© 2012 Career and Employment Services, University of Puget Sound