Three days and counting…Career Fair is Wednesday, October 26, 2011. Wondering who'll be there? Check out the complete participant list online, but here are some highlights: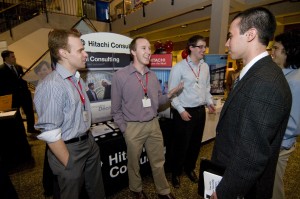 City Year Seattle: An education focused non-profit organization hiring young people for a year of full-time service as tutors and mentors to keep students in school. Local and nation-wide opportunities are available.
Hitachi Consulting: A global business and IT consulting organization, Hitachi is hiring for full-time consulting positions.
PJ Hummel & Company, Inc.: An award winning event design, décor, and production company based in Tacoma. They're hiring for part-time jobs and internships.
Target Corporation: You may think of Target as the place you go to get accessories for your room or house but did you know they have a management training program? Target is attending the Career Fair to hire for executive leadership positions in store management.
The Weekly Volcano: You've probably seen the Weekly Volcano at any of more than 700 distribution points throughout the South Sound. If you're Interested in learning more about an edgy, irreverent approach to journalism, visit the Weekly Volcano's table to inquire about their part-time internships!
Want help polishing your resume, practicing your introduction, or determining what to wear? Drop by CES for a 10-15 minute mini-session with a career advisor, M-F from 2:00-4:00 p.m. Need more time? Call 253.879.3161 to schedule an appointment.
Check out these previous blog posts for other tips:
Calling all Loggers! Come to the Career Fair! Why all students should attend, and what to expect.
Before You Go: Tips on preparing for the Career Fair.
Don't let your handwriting hinder you! (Sign up for a pre-printed name tag from CES.)
Nametag Deficiency Syndrome? Why a properly worn name tag is a necessity.
See you there!
© 2011 Career and Employment Services, University of Puget Sound
Photo: Ross Mulhausen
Save