Ah, Spring. It's coming! From the small strip of daylight allowing a peek at the mountains during my morning commute to the sight of students back on campus wearing t-shirts to celebrate the stretch of near-50 degree weather, the signs are everywhere. This is a time to celebrate, to rejoice, and to spruce things up.
For graduating seniors, it's time to get focused and start thinking about what happens next.
We have some book suggestions to help you get started on a job search. The following are some of the best books we've found about conducting a job search in the current market, and all are available to check out in the CES Career Resource Library (in case you'd like your own copy, we've provided the links for purchase). Each has different strengths, but all provide solid guidance on conducting a search for a first professional position: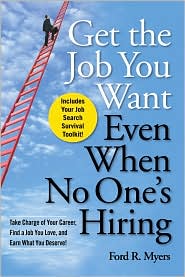 Get the Job You Want Even When No One's Hiring
Publisher's description: "Today's job market is the toughest in recent history, and the challenges are here to stay. Even so, you CAN get the job you want – IF you discard conventional approaches to the search. Get the Job You Want, Even When No One's Hiring is the ONLY career book that:
Explains the special strategies necessary to land a job during an economic crisis
Integrates comprehensive, practical tips on job search and career management
Provides an extensive online "Job Search Survival Toolkit" to augment the book
Addresses the realities of this job market with real-world, actionable steps
Positions the downturn in the economy as an opportunity to develop a better career
In Get the Job You Want, Even When No One's Hiring, career expert Ford R. Myers maps the new world of job search and reveals essential strategies for your success. You'll learn how to seize opportunities that aren't posted yet…how to make yourself an instant asset to potential employers…how to clearly stand-out as the best candidate…and how to leverage social media, blogs, and other Web tools."
Can I Wear My Nose Ring to the Interview?
Publisher's description: "A witty, friendly, unexpected job hunter's bible that finally answers the real questions. Yes, if you're wedded to your nose ring, wear it to the interview. No, you shouldn't be e-mailing out hundreds of résumés. Writing with enormous authority and a compelling, lively voice, Ellen Reeves brings together her lifetime of experience of hiring, counseling, and résumé-doctoring into an essential guide for young job seekers."
Publisher's description: "In You Majored In What?, nationally known career counselor Dr. Katharine Brooks dispels the myths and the old-fashioned thinking that can make your transition to the "real world" so daunting and chaotic. Developed from more than twenty years of teaching and guiding students to successful careers, her Wise Wanderings career coaching system helps you mine your academic and life experiences for career gold through creative yet practical techniques including visual mapping, storytelling, and experimenting. Thanks to the Wise Wanderings system, you can forget what you've been told about the job search. You don't have to know where you'll be in ten years. You don't have to have picked the perfect major. The job-finding process doesn't have to be one more burden on your already overburdened schedule. All you have to do is pay attention. Embrace the chaos. Think. Create maps. Construct small experiments. Celebrate your education. Consider possible lives. Tell stories. And start wandering. Wisely, of course. You'll be amazed at what's waiting out there for you."
Like any big project you do in college, gathering research materials is a great place to start. Feeling overwhelmed by the entire process? Check in with a career advisor to help you gain some perspective and get started on your professional job search.
© 2010 Career and Employment Services, University of Puget Sound
Save
Save