Forget the images of librarians as quiet book lovers.
Of course librarians love books, but the work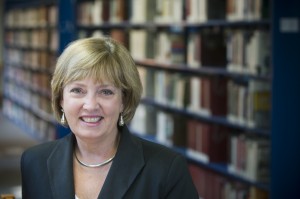 of a librarian extends beyond cataloging and shelving library books.
Today's librarian is a master of information management with jobs ranging from public service and reference, to technology and web development, as well as working with rare books and archives.
Librarians may be employed at your local municipal library but librarians are also employed at large corporations (like Microsoft, Nissan, and Boeing), law firms, museums & historical societies, and many other environments including the University of Puget Sound!
Jane Carlin, director of Collins Memorial Library, oversees the management of the Library including personnel, budget, services, and collections (including print and electronic resources along with new media).
Jane and her team constantly assess services and consider ways to promote the library and its resources and bring new patrons to Collins Memorial Library. You may have noticed exhibits featuring local artists working in book design and printing arts, or displays of library materials including Puget Sound archives, events such as Banned Books Tea, Edible Books Day and author talks.
I sat down with Jane to learn a bit about her career path:
Alana: How did you end up in this career field?
Jane: As an undergraduate I was an anthropology major with a minor in art history – as a junior and into my senior year, I began to seriously contemplate a career path. I knew I loved to study, work in an educational environment, and was passionate about art. It was during a "senior seminar" in art history that I went to meet with the art librarian to learn about special methods in art history research. I was amazed about all the interesting work that she did from research, to purchasing unique materials, to teaching classes. I was sold – academic librarianship seemed like a perfect fit – it provides the opportunity to build on a liberal arts background, contribute to higher education, provides a service to students and faculty, and allowed me to continue to pursue interest in the arts! My graduate program at Indiana University was designed so I could focus on fine arts librarianship.
Alana: What advice do you have for students pursuing this field?
Jane: Get as much practical experience as you can either through paid employment as a student library employee or by volunteering in a local library. Also – keep an electronic portfolio or at the very least a record of your research papers, presentations, etc.
Alana: What skills/competencies are valued in this field?
Jane: Database and technology skills, media communication, problem-solving, critical thinking, research skills, interpersonal skills, and community engagement. Most of the professional positions in the library require a Master's degree.
I spent about 20 minutes with Jane and learned a lot about careers in library science. If you're interested in learning about career options, consider meeting with professionals working in fields of interest to you.
Recommended Resources:
American Library Association
Association of College & Research Librarians
Special Libraries Association
Top Skills for Tomorrow's Librarians
Occupational Outlook Handbook: Librarian Careers
Library Jobs
Library of Congress Jobs, Internships, Fellowships
© 2009 Career and Employment Services, University of Puget Sound
Photo: Ross Mulhausen
Save