In which it is, in fact, worth it.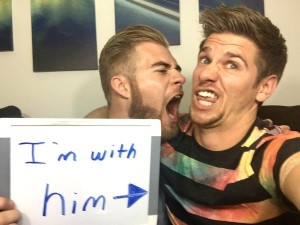 To my dear reader,
I am not a fan of vlogs. I don't think that they're intrinsically bad, but most vloggers fail to entertain me with their mundane lives. The only real exception I've ever found is the channel of Team Pike – a gay couple of PK Creedon and Mike – and I realized this because of a very cheesy music video they made to Carly Rae Jepsen's "I Really Like You."
In part, I like the aesthetic value of the focus in each of their videos. Few to none of the channels' videos show the couple rambling about their everyday lives. Instead, each one focuses on a specific aspect of their lives, such as a family vacation, a video challenge, or a component of their relationship. This provides a purpose which captures my (otherwise very scattered) attention.
I also won't deny that both are very cute. What can I say? I like 'em white and suburban.
Not really joking about that one.
What really captured my attention, however, was the fact that both Mike and PK are a little older than most gay male vloggers, and much more mature. Their silliness and humor are constantly balanced with meaningful messages, and they consistently demonstrate a very real, healthy and three-dimensional relationship. Both are extremely different, but in spite of this find common ground.
I have never had any sort of gay male role model, and I'll admit that I very much wish I had. But seeing these two – especially in this ridiculous music video – made me feel like they were filling that space in a way, and gave me hope that I might one day have a relationship that good.
But if I've learned nothing else from them, it is to (as they say at the end of each video) remember to smile… because it's worth it.
OKAY?!?
With all due respect,
Daniel Wolfert