Today is Thanksgiving and I'm still on campus. While most of the school is with family, I'm just sitting in my room, typing away. But you know what? I don't regret not going home.
I had Thanksgiving for the first time without my family in my entire life. My perspectives leader, Gwen, from orientation posted an open invitation in the "Free & For Sale" group on Facebook, inviting anyone on campus over to hangout and eat.
Of course I jumped on it, I didn't want to spend the night in my room, watching my friend's fish (I renamed her Ms. Fish McFish). By the time I got to Gwen's house, there was Gwen, some of her friends from Lewis & Clark and a few other people. They had been cooking all day, so I contributed what I could by helping set the table. After that, I helped where I could and did my best not to seem like a freeloader.
To cut a long story short, I had an incredible dinner with a bunch of strangers that I got to know a little. I just had a ton of fun and really enjoyed myself. Also we played Settlers of Catan for all of 10 minutes before we got distracted by pie and pretty much abandoned the game.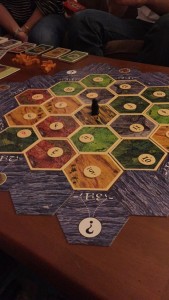 This just goes to show how awesome the people we go to school with are. Even though we're all a bunch of strangers, we're still able to come together over a nice meal.
I think that next year, I might just stick around during Thanksgiving and do this. I'm sure anyone staying would appreciate it. I know I did.