In which Daniel misses his kitchen, and it has nothing to do with his ethnicity.
To my dear reader,
The first question posed at the Men of Color Club's Adjusting to Life at Puget Sound Open Discussion was "What do you miss about home?" Although a seemingly unassuming question, the implication to the twenty-odd university students, of a multitude of ethnicities, was clear: "Did you miss your home culture when you arrived at a school so dominated by white students and faculty?" Most answers responded to this implication, expressing a yearning for students' home languages and habits. My answer was "my kitchen'.
This inevitably made some people laugh and some people uncomfortable. The people that laughed probably thought that I was being cute or silly, while the people that became uncomfortable probably thought I was being disrespectful or rude. None of these things are true.
I miss my kitchen because that is where I might find my golden retriever laying on the floor, waiting for me to use her tummy as a pillow. That is where my mother and I once tried (and spectacularly failed) to make a German Black Forest Cake, and where one of my sisters and I took turns playing the video game Skyrim on her laptop. That is where I have sat to watch the wind through the treetops in the back yard, and where I have written some of my best fiction, and where I used to go first thing in the morning for a cup of Irish Breakfast Tea. This is the nature of my kitchen.
Of course these things are not irrelevant to my ethnicity – or more specifically, from that of my white father. He is an incredibly intelligent, extremely hard working biomedical research director that may have never achieved his place in his profession were he not white. So many of the wonderful memories I have of my kitchen at home would not be possible if my family was not reasonably well-off, and we would not be well-off if my father was not such an incredibly intelligent, extremely hard working man that society had rewarded, and society would not be nearly as willing to reward my father were he not the ethnicity he is. This is not his fault. This is the nature of our world.
Yet at the same time, what I miss from home has nothing to do with my ethnicity. I say this because none of things I mentioned have to do with Eastern European culture or Filipino culture. My parents were raised by their parents to be American, not to have the cultures of their ancestors. It is not a good thing or a bad thing, but as a real thing. My grandparents all thought, "If I raise my child to be a good American, then they will have a better chance at being a successful one too."
My father's forefathers came across the Atlantic from somewhere distant and cold where the soup was probably thick and the socks probably thicker. My mother's forefathers came across the Pacific from somewhere where the sun was probably bright and the flowers probably brighter. But I am an American; I know Thanksgiving stuffing, and Tylor Swift's 1989 album, and that New York is allegedly a place of great dreams and skyscrapers but also of great disappointment and overcrowded apartments. I have no more right to claim Eastern European or Filipino culture as mine than a Brazilian does Norwegian culture. It is not in my blood; it was in my ancestor's lives, and is not in mine.
I am certain that those cultures are completely beautiful and fascinating in their own right. But they are not what has defined me. It is not a good thing or a bad thing, but a real thing. This is the nature of my identity.
I stand by my answer of "my kitchen," because although I respect the Men of Color Club, I will not identify myself by the pigmentation of my epidermis or the daily practices of ancestors I will never know, even if others will. The lack of cultural and ethnic diversity at this university truly must be discussed, and the dialogue fostered by the open discussion is important and truly must happen. But I will participate as a student and an American and an empathetic human that cares with a heart as wide as a cosmos, and not as a "person of color."
It matters not to me what my ancestors did or where they came from; it matters what I do and where I am going.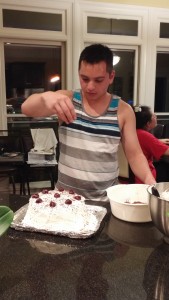 With all due respect,
Daniel Wolfert