One of the best parts of going away to college when you're from Hawaii is the Lu'au. For one thing, lu'aus are a big deal yeah, but they involve a LOT of work and planning and people that traditional lu'aus aren't an everyday or even monthly thing. Graduation parties, weddings, and other big celebrations may merit a lu'au or if we decided to go on a staycation and visit the Polynesian Cultural Center's (tourist must!) traditional lu'au activities- Makahiki games, traditional Hawaiian games to celebrate the New Year, and performances of hula, haka, fire-dancing, poi balls and a delicious Hawaiian buffet! Lu'au is a great way to remember and share the culture of Hawaii, the food, the people, and the music!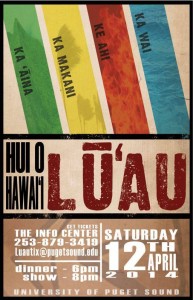 Our lu'au's theme this year was Ka' Aina, Ka Makani, Ke Ahi, and Ka Wai which means earth, wind, fire and water, the four elements of life! For the performance many students from Hawaii and all over the country learned to dance kahiko, tahitian, maori, women's slow and couples dances to name a few. Besides student dancers, the luau committee chairs publicized the event to the community recruiting children & faculty to perform their own hula as well. A live band, lighting & sound company and Dining Services were also selected to help create an authentic Hawaiian experience! Hawaiian recipes and fresh pineapple were brought in to present a feast for all to enjoy before the performances. A group of guys actually Luau would not have been possible with all the help and community spirit of Puget Sound to put on another successful luau!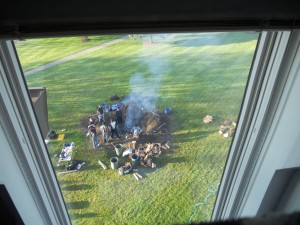 The imu group of guys, the dug a deep hole put in the hot coals, banana leaves & whole pig to cook for over 24 hours!
With each dance practice, rehearsal, decoration making and food prep, I was reminded of how amazing Hawaii is. The Hawaiian band would perform local favorites such as Hawaiian Superman and share that aloha spirit slipping into pidgin english, ho brah! \m/ Despite many people from Hawaii coming from rival schools we all are from Hawaii and have bonded over that love for home and sharing that with our new friends here. It was an amazing night, all the company, delicious food  and many more happy memories of this semester! I can't wait to start thinking about next year's luau!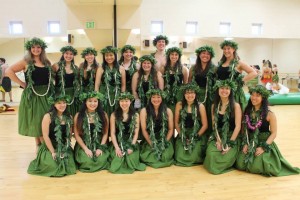 The kahiko lovely dancers (I did this one)!