In which Daniel is his usual disastrous self, but with unexpectedly delightful results.
To my dear reader,
At the rick of exposing myself as the college student I truly am, I must say that there are few things more satisfying than completing a well-written paper. As a music major, my opportunities to write papers are relatively slim, and as someone without a passion for writing anything that is not either fictitious or humorous, this occurrence is even more rare. As of Monday, May 4th at 12:35 AM, however, I had the enormous pleasure of producing such a paper, completely from scratch and within the span of five hours.
I had no intention of pulling off such a rapid and ill-timed feat, but on the afternoon of the Friday previous, Dr. Geoffrey Block – my Broadway History professor – reminded the class to have our final essays, discussing a musical that was an adaptation of something else, turned in by Monday. Upon hearing this, I was struck by nausea and panic. How had I not noticed that the essay was due in three days? Why had I not written that optional rough draft? At what point was I to write this six-to-eight-page paper when I had to attend Relay for Life, a choir dress rehearsal, a friend's recital, my a cappella group's final get-together, a choir concert and my a cappella group's recording session, all in the next two days?
The next forty-eight hours were marked by a quietly insistent undercurrent of terror. If I did not finish the paper, then I would be unable to pass the class, and if I wrote a terrible one, then I would get a poor grade – either way, damaging my GPA. I silently kicked myself for forgetting about the paper's existence.
On Friday evening, I frantically helped my fraternity, Beta Theta Pi, set up its tent and team for the university's Relay for Life. After my a capella group performed at the event and attendees began to drift off, I walked the track of Baker Stadium and mulled over what on Earth my paper might be about. I had already decided to discuss the musical Ragtime and its original source, E.L. Doctorow's novel of the same name, but I had failed to read any literature on either work. As I passed the Luminaria after Luminaria, I consoled myself with the thought that I'd at least watched the musical and read the book before this.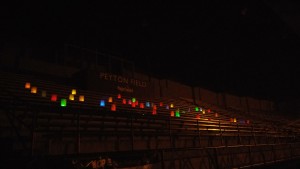 The next morning, after attending a choir dress rehearsal on four hours of sleep, I took a fitful nap, arguing with myself on whether sleep or the essay was more important. On one hand, I knew that I have little capacity to function while tired, but on the other hand, I knew that my evening would begin with a friend's junior recital at 5 PM, and would afterwards spiral into frivolity with my a cappella group when we went out for dinner, played laser tag and gave our last gifts to our senior members. Tomorrow, I told myself, I would simply not sleep. I would stay awake for as long as I needed to, and write until some semblance of a paper existed.
Sunday morning came, and I was terrified. I wandered through my last choral concert of the year in a daze, and afterwards went to my a cappella group's recording session with knots in my stomach. By the session's conclusion, 6 PM had arrived and I'd still not written a single word. Attempting to maintain my sanity, I gathered all the books I'd found on ragtime music, the score of the musical, E.L. Doctorow's novel itself and interviews with the author, bringing them with me to one of the university's coffee shops.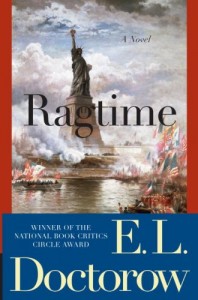 It was over my first Mocha that I suddenly stumbled upon a thesis, and in a few short hours, I had spit out an essay with the following argument:
When it was first published in 1975, E.L. Doctorow's novel Ragtime was wildly successful both critically and commercially, praised for its delicate intricacy, mixing of myth and fact, and its level-headed presentation of sexuality and political ideologies. Despite garnering thirteen Tony nominations and winning four, the musical adaption by composer Stephen Flaherty and lyricist Lynn Ahrens was not a commercial success and received mixed reviews, critics expressing distaste for the show's ostentatious production and spectacle.
            I argue that the musical, as part of the legacy of megamusicals (musicals of enormous production scale with many actors involved, such as Phantom of the Opera), is actually much more successful as a piece of art. This is because the show's distinctively different characters and storylines allow for music that is distinguishable and meaningful, rather than an unending series of repetitions of the same melody, as in both aforementioned megamusicals. Despite this, however, the musical's didactic writing and Disneyfication of the storylines, for the sake of mass audience appeal, strip the storylines of the sexual and political energy they held in the novel, and thus strip the story of the intricacy, subtlety and ambiguity for which the novel was so praised.
There you have it. Not genius level work, but I cannot deny that this is one of the few essays I have ever written in which I convinced myself of my own thesis. I finished my essay after five hours and, two hours later, had finished my last homework assignment of my junior year. A tiny victory, I suppose, but I have no apologies for the joy it brought me.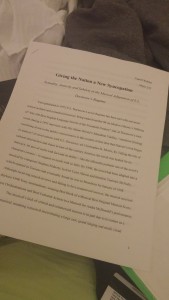 With all due respect,
Daniel Wolfert