Since it's Throwback Thursday and since I've spent all afternoon reviewing what I've learned this semester in preparation for finals, I've decided share a photo and section of a blog post from the beginning of the semester.
Scharrington residents taking a plunge in the Sound at the end of freshman orientation: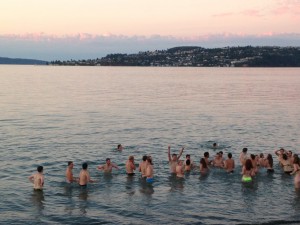 Blog post from the day before classes began:
Right now I am feeling inspired, a little dazed, and excited all at the same time which is typical of how I've been feeling all week. Lately I've had many strong feelings at once, making it hard to figure out how I really am. If I were to talk to you on the phone I'd probably tell you that life here is amazing and wonderful and that I am very happy, which would all be 100% true. But I am also a little sad, a little lonely, a little unclear, and a little homesick. I am the most quiet, vulnerable, and well-intentioned Kira I've ever been!

This week I left home, parted with my family, met my Puget Sound family, hiked through the Olympics, worked at a transitional house, and practiced 4 hours in a row. Tomorrow at 9am I'll take a seat in my first college class, a seminar called Utopia/Dystopia. I already feel nostalgic for this summer, but I am ready to be worked, challenged, and exposed to different ways of being.
So what now? How has my way of being changed over the past three months? To be honest, I'm not sure. Whenever I try to summarize the time I've spent here at UPS, identify patterns within myself, and describe revelations, I risk extracting a little too much meaning from life. But I will say that I feel a certain responsibility for myself and my learning now that I didn't three months ago. I haven't become completely self-reliant– I absolutely need my family, friends, teachers, students, and caretakers– but I feel I've become my own independent person.