I actually have homework to do now so I have not had too much time to write, I was also gone this weekend without internet access, my apologies.
First up is the Alps.
The snow in the Alps wasn't the best, but the sun was shining and we all had a great time. The bus picked us up at 4:30 in the morning and we got back around 11PM so it was quite a long day. Here are some pictures: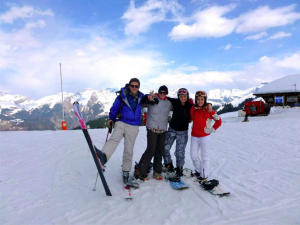 This last weekend I went and visited my friends in the south of France on their farm in the hills near Salon de Provence. Two years ago, during the summer after my freshman year I went and worked on this farm. through an exchange program called WWOOF (worldwide opportunities on organic farms). My main job on the farm was rebuilding Roman dry-stone walls that line the property. I spent the weekend relaxing in the sun and talking about politics. The owner of the property is an anarchist so we talked a lot about what being an anarchist means and the misconceptions that go along with that political persuasion. Since I don't have a camera I don't have any pictures to show but I do have some drawings I can scan into a later post once I have access to a scanner.
There was a moment Sunday morning that pretty much sums up the lifestyle of the farm that I would like to share. After waking, I walked outside to take my morning pee and one of the three dogs that lives on the farm sauntered up to next to me. He lifted his head to take a good long look at me, and commenced to pee right alongside me. Man, and his best friend, before a landscape of French hills dotted with the mud red roofs of village houses, participating in one of natures fine acts; it was something special.
I was talking about getting DYSE'd this weekend with my friends James and Greta, and Greta commented on how it feels really fun to have people on the street think you're French. The idea of walking around with a presumed French identity is charming. In any case, James responding by saying, "Really? People think you're French? People know I'm American right away, they just start speaking English before I say anything sometimes, its like a Insta-DYSE…" I thought that was pretty golden.
This weekend the group is in Alsace, checking out the European Parliament building in Strasbourg amongst other adventures. I promise the next post won't take two weeks to write.