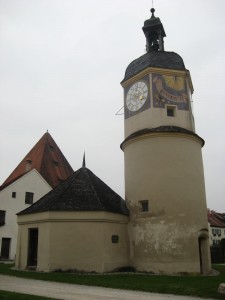 As mentioned in a previous post, I spent my Fall Break in Bavaria. There's a lot to share but I always wince when thinking back on that apartment post. I will keep that promise and spare you the pain of reading so much.
My really good friend, E, and I decided to try carpooling, which is very popular in Germany. The website is www.mitfahrgelegenheit.de and is pretty much a listing of drivers throughout Germany who have extra space in their vehicles. If you happen to be going to the same destination from the same place as a driver,  you can book the drive. We've heard of this while we were studying in Munich a couple of years ago but as a girl, you tend to be cautious with these things. Many drivers are college-aged men and although there are girls who do travel by themselves with this service (we've heard no complaints or dangerous situations arising from this), we didn't want to risk it. We changed our minds this time because we were going to be together and seeing that E took a woman's self-defense class, I felt at ease with this decision.
The drive was going well for the first hour-and-twenty minutes until we hit major traffic. Three hours and a mere 26 kilometers later, we found ourselves finally out of the stop-and-go mess. We didn't get to Munich until 2 AM.
However, the rest of the trip was absolutely wonderful! Before I continue explaining: the picture above is of one of the many buildings of the longest fortress in Europe located in Burghausen.
Here is the crazy itinerary we planned together:
Oct. 14th: carpool down to Munich
Oct. 15th-Oct. 17th: Altötting. Stay with a friend at her family's house.
Oct. 17th-Oct. 20th: Munich. Stay with a friend who is studying abroad on the same program I did back in the day.
Oct. 20th-Oct. 22nd: Passau. Stay with a friend at her family's house.
Oct. 22nd-Oct. 24th: Mainz. Tour E's host city.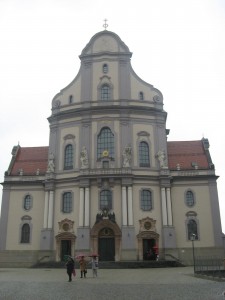 (The St. Anna Basilica in Altötting.)
This was obviously a jam-packed schedule but it was incredibly worth it. Everything was wonderful: the food, people, sights and the dialect. To my great surprise, I was able to understand at least 70% of all the Bavarian dialogue I heard. That was one of the highlights of the trip because everyone always marvels at how unbelievably difficult it is to understand at least one of the many different Bavarian dialects. Another highlight was the food! We had so much delicious Bavarian food, whether it was in a restaurant or at home.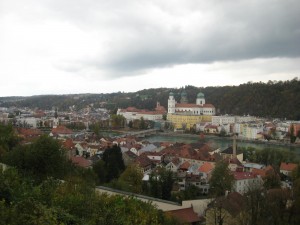 It was also very nostalgic going back to Munich. Seeing my favorite parts of the city again as well as visiting old friends, acquaintances and close professors who are still there was the best birthday treat. It felt like being home again.
The trip really prepared me to live in Berlin because it helped me get over my pining for the past. Southern Bavaria will always be my home but my heart is ready to move on and embrace Berlin, which hadn't been the case thus far. I'm feeling more comfortable with Berlin as the days go on and am hoping that this place will come to symbolize a sort of home as well.
(View of Passau from the Mariahilf Convent.)