Written by Jenni Chadick, Assistant Director of Residence Life
This time of year in a Residence Life office is a very busy one. Opening a new semester, even mid-year, always bring changes to who is living on campus and where. Roommate issues that were just simmering fall semester can sometimes now become unbearable, and our office is inundated with room change requests. On top of this we are planning for spring housing lottery – when current students can sign up for housing next year – and February brings our region's annual housing professionals conference, NWACUHO. Last but not least, we are selecting our student staff team for 2014-2015. Hard to believe we are thinking that far ahead, but January and February in Residence Life is almost all about looking forward and setting up the foundation of what we do.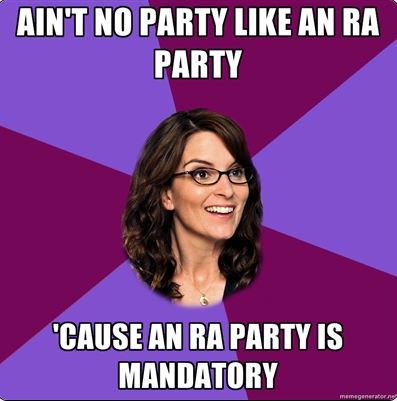 Our student staff applications are due this Friday, January 31st, and we always have a competitive pool of applicants. With good reason. In my admitted biased option, being a Residence Life staff member is one of the best things you can do for yourself personally and professionally while in college. You'll be challenged in ways you never thought, gain confidence in handling difficult situations, gain valuable transferable skills applicable to any post-graduation job, and making lasting relationships with your peers. So how do you land this golden opportunity?
Be yourself. I know it sounds so cheesy and cliché, but it's true. We are never looking for one thing from every candidate, we are looking to put together a team of 60 dynamic leaders. The best way to showcase your skills and talents are to know yourself and be yourself. It's no coincidence that the last line of our university's mission is "to know thyself." In order to truly let your unique qualities shine, you need to know what they are! If you are unsure of where your talent lies, and how that aligns with Residence Life, talk to your peers. Talk to your RA or RCC. Talk to a mentor, a professor, and advisor, or a parent. Talk to those who know you best and ask "What qualities make me a great team member?" It's going to vary from person to person what comes to mind – someone who energizes the group, someone who keeps the group on track, someone who is not afraid to speak up if they are concerned about a group's direction, someone who is great at connecting 1-1 with team members. It's impossible to be all these people at once, so the best you can do is know what you do well and continue to cultivate and nurture that skill. We can all learn to be more outspoken or reserved, a better listener or better contributor, more confident or more cautious. We can smooth out our rough edges, and we on the other end of the hiring table know that. Those candidates who shine in our process put themselves out there and give us no doubt as to who they are. The tough calls we make when hiring often have to do with candidates that we have no experience with (i.e. have not been involved in their community) AND do not share much about themselves in the interview process. It's hard to know if you are the best for the team if we don't have a sense that you know who you are, and can communicate that to us in the admittedly brief time we have to get to know each other.
To summarize, there are tricks you'll hear from folks in our department (don't say dorms, say residence halls) or stereotypes you think we are looking for (i.e. the outgoing, always talking, over involved leader), but these aren't the real reasons we hire who we hire. We know we can teach a student why we say residence hall, but we don't know we can change a person's character. Show us who you are, and why that makes you an excellent peer mentor and odds will be forever in your favor.