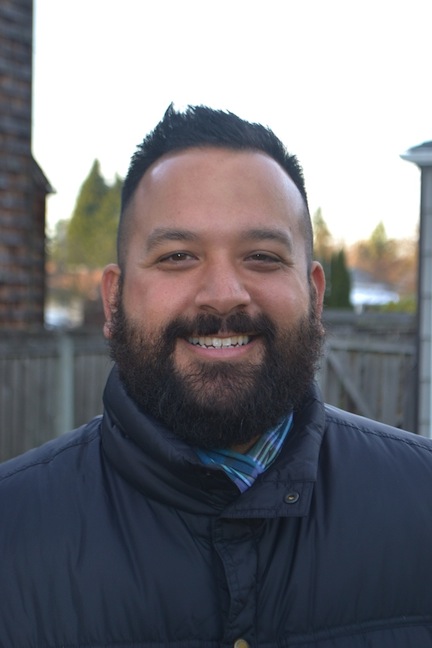 Aloha kākou!  My name is Tyler Pau and I am new to the University of Puget Sound.  I have the esteemed privilege of serving as the Assistant Director of Residence Life.  In this capacity, I oversee all housing operations and logistics.  I also work with the Greek House Coordinators and advise the campus Theme House program.  I have lived and worked in a number of places around the country and am happy to have landed with my family in Tacoma.  Let the adventure begin!
I started my career in Residence Life as an undergraduate at Whitworth College (which is now Whitworth University) as a Resident Assistant.  Professionally, I started in 2004 as a Resident Director at Cal Poly Pomona in southern California.  I have most recently been in the northeast working as an Assistant Director of Residential Life at Assumption College in Worcester, MA.
What's your favorite thing about Tacoma? 
There are a lot of cool things about Tacoma!  I would say that my favorite thing has been the friends and community in the area, both pre-existing and brand spanking new.  It has been fun to reconnect with some old friends I haven't seen in a while and to start making some new acquaintances.  Having moved around the country a few times, I have learned how important a good support structure is to making a successful transition.
Where's your favorite place to go in Tacoma? (restaurant, attraction, or otherwise)
Saturday Farmers Market in Proctor: I like going there for two main reasons…a) $1.50 bran muffins with agave….b) there are usually a lot of dogs there.  Since I don't have one, it is like the next best thing.
Masa: This has been a popular "go to" since they have specials all day on Sundays, Mondays, and Tuesdays.  The carne asada quesadilla is great.
Point Defiance Zoo: I love taking my family here.  Plus, I am kind of nerdy about animals and like that it is so close.  
Where's your favorite spot on campus? 
I like to visit the Dean of Students Office front desk.  Paula always has good candy at her desk.  And she is fun to talk with, too.
What is your spirit animal? 
According to an online quiz I just took, it would be a wolverine.  However, if I had to choose, I would say a silverback gorilla.  Noble.  Hairy.  Awesome.  Yup, sounds like something to aspire to.  I will take that.
Where's your hometown? 
I was born and raised in Honolulu, Hawaii.  O'ahu no ka 'oi!
What type of relationship do you have with the residents in your area? 
I hope that students on campus would find me professional, approachable, fair, and genuine.  I don't live on campus or have a specified set of residents but the nature of my position opens me to all residents.  That said, I am more than happy to have a conversation with anyone who might have questions or might have a unique situation that needs looking into.
How would you describe yourself in 3 words? 
Hmmm…three words: authentic, learner, caring.
What do you like to do in your spare time? 
In my spare time I like to be with my family, watch college sports, listen to music (especially when I can stumble onto new music), hunt down cool neck ties, explore the area, Skype with friends and family around the country, and watch documentaries.   
What's your favorite movie? 
The Lost Boys.  Random vampire movie, before vampires were the "in" thing, all the way from 1987…Google it.  Runners Up: Braveheart, The Fifth Element, Monsters, Inc., and The Karate Kid (the original…of course).
What's your favorite station/meal in the SUB? 
Asian…a dab of siracha on the corner of any dish I get there.  A close second is the taco salad because the shell is so good.
What's your favorite Diversions/Opp drink? 
The Opp whips up a stellar honey vanilla chai tea (with skim milk).
If you could do anything over again in college, join any different society, take any new class–would you? What would you do? 
I was truly happy with my college experience but I can think of three things I might do differently.
Snowboard way more
Learn Spanish
Study abroad in either New Zealand or Japan