Two-Day Workshop
Sketchbooks: Plan and Action with Timothy Ely
Saturday, April 16th 2016 & Sunday, April 17th 2016
9:30 a.m. to 5 p.m.
701 Opera Alley
Tacoma, WA 98402
(Down the hall from Fibers Etc.)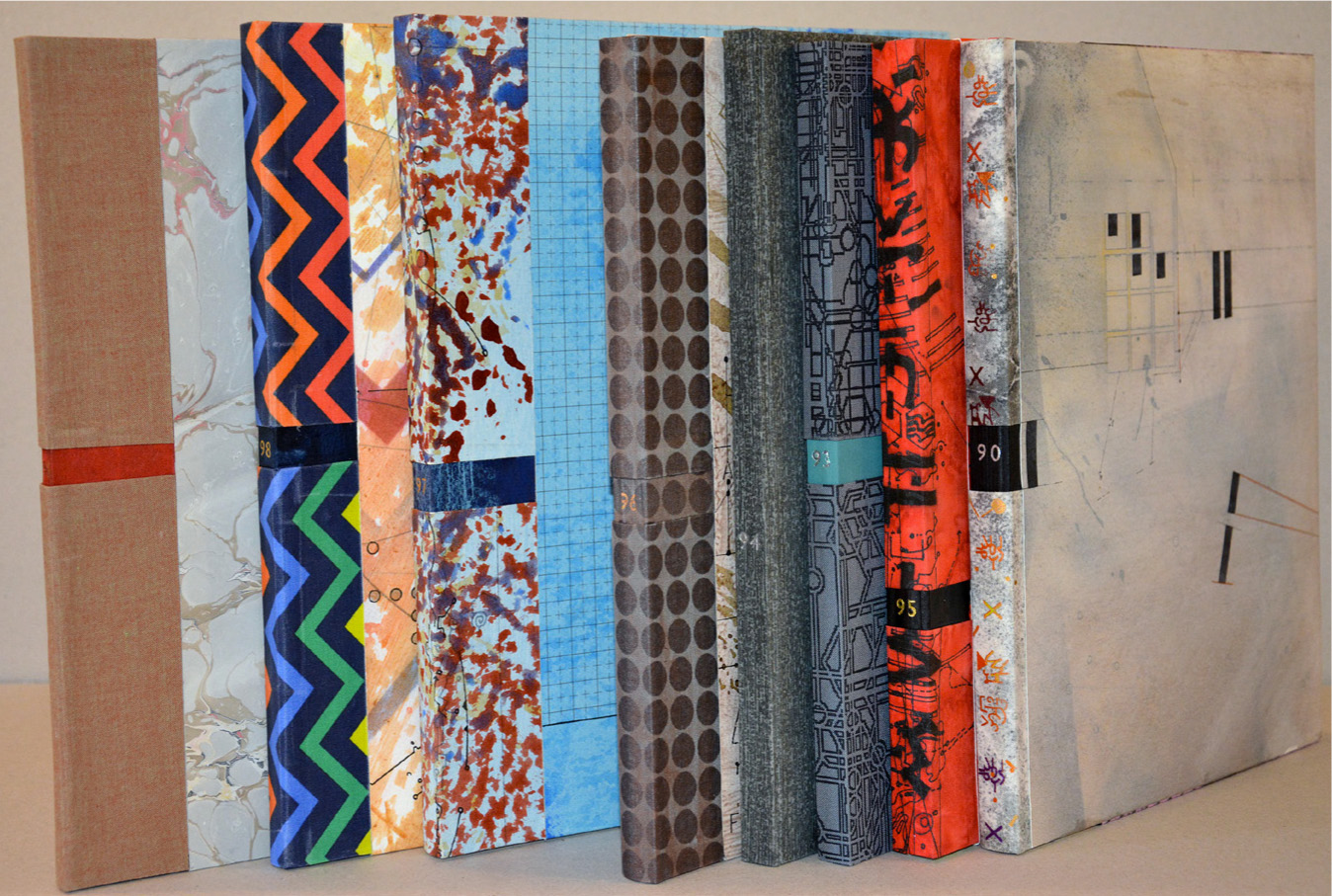 The sketchbook can serve as a planner, recording device, carrier of scrap, journal, and muse. Notations in a sketchbook are often the first step in connecting the imagination with the realization of an object or the grasping of an insight.
This two-day intensive investigates the uses and utility of the artist's sketchbook, a conceptual tool with a long and venerable history. We will fabricate a "formal" codex book with rigid covers. Other topics covered include Ely's development of the "drum leaf" binding, surface design on covering materials, adhesives, and arcane aspects of drawing and rendering. These give large doses of complexity, energy and surface to the life of the sketchbook and will help dissolve the blocks to the creative path.
All skill levels are welcome, beginning to advanced. Beginners are welcome though they should have done some reading or otherwise engage in the process.
Presenter: Timothy Ely has been a student and scholar of the sketchbook form since the late 1960's. He received an MFA in Design from the University of Washington in 1975 and since that time has made over 500 unique manuscript books, sketchbooks & archives and has been active in teaching the art of the book. His books are in public, private, and secret collections planet wide. He lives in Colfax, Washington. Learn more about his work at www.timothyely.com.
Space is LIMITED, Registration is REQUIRED:
https://psba.formstack.com/forms/tim_ely_workshop
(PSBA Member registration opens February 22, 2016.
Registration opens to the public February 29, 2016.)
Workshop fee: $275 PSBA members/$310 non-members
Supply List:
Two covers for the front and back of the book [instructions will be sent after registration] These will come from one half sheet of arches cover white paper.
Your basic traveling artist and bookbinders kit. [questions about this? It should contain all of your fundamental tools.]
Paper: I recommend Strathmore 400 drawing paper. Something you like to draw or write on that is about 24 x 18 with the machine direction [grain] parallel to the final fold. Your sections will be 12 x 9 when folded. We will do the folding in the workshop.
Needles: I use darning needles about 1/6 in size but most will work if they accommodate the size 18 thread.
Knives- you should have already a paper tearing knife and both a fine cutting knife and a utility knife for board and more ambitious cutting jobs.
A cutting mat and decent straight edge is vital as well.
A 45 degree metal triangle- be sure it is not a 30-60-90 triangle
Brushes for glue, small [half an inch should do] and wide, about 2 inch.
Marking making tools. A selection of your most useful tools for drawing.
All materials and patterns provided. Materials fee ($25) due to Timothy Ely on day of workshop.