Puget Sound Book Artists 8th Annual Members' Exhibition
Exhibition Dates: June 4-July 27, 2018
Featuring 36 Artists with 57 Unique and original books
The public is invited to attend special, free events that will run alongside the exhibit
All events will be held in Collins Memorial Library
Opening reception and awards presentation
Thursday, June 7, 5:00-7:00 pm
Artists Conversation
June 21, 5:30-7:30pm, Archives Seminar Room
Panel Discussion
July 12, 5:30-7:30, Archives Seminar Room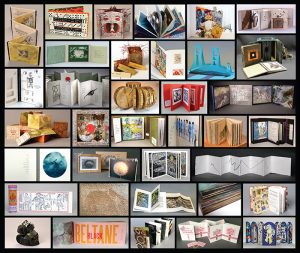 What exactly is a book? Is it simply a container of information? An object with pages and covers, and a narrative of some sort? A collection of pictures and words? A small sculpture? The 8th annual exhibit of the Puget Sound Book Artists explores all of these possible definitions and more.  The participating artists play with the form of a book.  They use traditional formats and bindings in new ways.  They make books using all sorts of media and materials; origami folding, popup pages, drawing, painting, printmaking, knitting, sewing, wood and found objects, to mention a few.
This year Puget Sound Book Artists is celebrating their 8th exhibition and it will amaze and astound you.
Each book is a fresh take on what a book can be and how its creator thinks and imagines.
Some artists use the idea of the book to explore philosophical concepts.  For example, Debbie Commodore asks questions about the nature of time with her Chronos and Kairos calendar. "What if the chronological year was shaped like a book that had not been written? And what if this book pushed the traditional book form…?" And she has shaped an interactive book/calendar that includes the possibilities of both Chronos and Kairos.
Other books are visual expressions of complex emotional states. Mary Preston's piece "A Work In Progress" is a carefully detailed "chronicle of loss" and "homage to a beloved family".  It conveys at the same time what is highly personal, yet universal in feeling.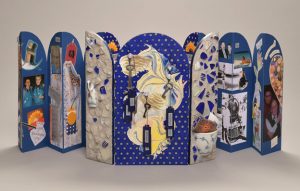 "A Work In Progress"  by Mary Preston
Social commentary is another strand in this show.  Lynn Olson has made a 3D visual political analysis and comment entitled "Tax Reform: Feather Your Nest" in one small box.
And some artists celebrate and share observations of the natural world.  Jan Ward's book "Illuminating Taraxacum officinales" shows a close up of the humble dandelion, actually lit from within, making the plant look like a precious treasure, rather than a lawn pest.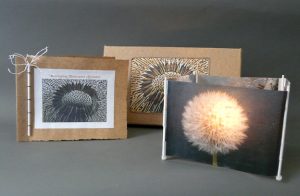 "Illuminating Taraxacum officinales" by Jan Ward
Jane Carlin, Director of the Collins Library and Vice President of the organization, is looking forward to the installation:  "The Puget Sound Book Artists have a following and now an excellent reputation in the South Sound and beyond.   It is truly an honor to host this exhibit and each year I am astonished at the creative and inspiring art on display." 
We, the curators, are delighted and inspired by the great diversity of approaches and technical skill shown in these works.
Dorothy McCuistion
Sally Alger
Gabby Cooksey
Kat Gower
For further information contact:  psba@gmail.com
Hours: www.pugetsound.edu/libraryhours | Information: libref@pugetsound.edu
Puget Sound is committed to being accessible to all people. If you have questions about event accessibility, please contact 253.879.3236, accessibility@pugetsound.edu, or pugetsound.edu/accessibility.