Workshop: Collapsible/Flexible Book Structures: Paper Balloons, Tubes & Vessels with Helen Hiebert
May 11 & 12: Wednesday & Thursday
10 a.m. – 4 p.m.
 Class Fee
$195 (PSBA Members)/ $220 (non members)
All skill levels are welcome, beginning to advanced.
Material Fee
$25 per student. Paid to Helen Hiebert on day of class
LOCATION
2926 S. Steele Street, 2nd floor
Tacoma, WA 98409
Advance registration opens at 9 a.m. (March 14)
 Registration opens to the public (March 21, 2016)
 To register: https://psba.formstack.com/forms/helen_hiebert_workshop
 CLASS DISCRIPTION: COLLAPSIBLE/FLEXIBLE BOOK STRUCTURES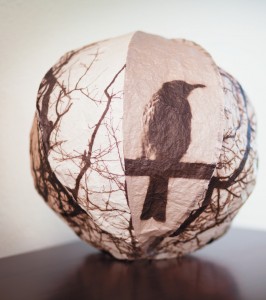 In this workshop we'll create a variety of panel structures with unique hinges that can be utilized to make books, lanterns, folding screens wall or window hangings. We'll make a shadow lantern, composed of lightweight wooden panels, featuring cut-outs that cast shadows onto a second layer of paper. We'll construct an envelope folding screen with an adapted piano hinge. And we'll create an inflatable ball structure that magically transforms from two- into three- dimensions. As we make these structures, we'll also explore ways to layer, fold and weave papers.
Each participant will make an envelope lantern, an envelope book structure, a shadow lantern, a woven paper lantern and/or window hanging and an inflatable paper ball.
STUDENTS NEED TO BRING:
Helen will supply the papers you need, but feel free to bring additional papers for your individual projects that fold easily and look good when illuminated or held up to the light.
. 1/8" – ¼" children's or artists' paintbrush for gluing
. bone folder
. sharp pencils
. scissors
. xacto knife that uses #11 blades + extra blades ( or other type of xacto that you are
comfortable using.)
. cutting mat (at least approx. 12" x 18")
. small notebook to take notes
. Any other favorite book binding tools
Presenter: Helen Hiebert is a nationally recognized paper and book artist with a studio in Edwards, Colorado and a home in Portland, Oregon. She runs a small papermaking studio where she creates art, installations, and artists' books. Helen also trains interns, and hosts
workshops and consultations. She is an adjunct faculty member at Oregon    College of Art and Craft and teaches and lectures internationally. She authored six books. To learn more about her work, visit www.helenhieberstudio.com.