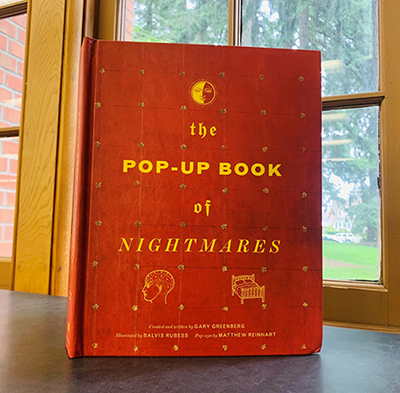 Collins Library is delighted to announce the gift of 150 pop-up books from retired art librarian, Stanley W. Hess. Hess currently lives in Bremerton and is the curator of the Aurora Valentinetti Puppet Museum, a division formerly of Evergreen Children's Theatre. He had a long and distinguished career as an art librarian, serving as the Director of the Nelson Atkins Museum of Art Library in Kansas City and as Head of Visual Resources at the Cleveland Museum of Art. Upon retirement, Hess returned to his roots to the Pacific Northwest to care for his mother, and quickly established himself as an arts advocate in Kitsap County, where he has been honored with several community awards for his work with the Puppet Museum.
Mr. Hess earned a Master of Science in library sciences from Case Western Reserve University in 1976 and a Bachelor of Arts in general art, with a minor in anthropology, from the University of Washington in 1964. His mother was a devoted library volunteer and was a leader with the League of Women Voters in Kitsap County. We are fortunate that Mr. Hess has continued the family tradition of services to the arts. Local artist and collector and a member of the Board of Puget Sound Book Artists, Peter Newland, fostered a friendship with Stan, due to their mutual interest in books, theatre and puppetry. Upon learning of the collection, Peter knew that Collins Library would be a great home for the books. "This collection of pop-up books will inspire artists, students, and would be paper engineers, as well as delight the local community", says Newland. "It is a real treasure for Puget Sound." Collins Librarian, Jane Carlin is thrilled to have the collection and coincidentally has a connection with Stan from the early part of her career having worked as an art librarian in the Midwest. "When I heard the name Stanley Hess from Peter, I was surprised and excited to connect with this most esteemed colleague. The collection of books is wonderful to have as a study in design. I am certain they will be a source of inspiration for many."
The collection will be maintained in the Archives & Special Collections. Carlin is planning a series of events to showcase the collection. In the short term, she had the chance to sit down with Stanley and learn a bit more about how the collection came to be:
Jane: Your collection spans decades of publications. Just how did you start collecting pop-ups?
Stan: It all started when I was Director of the Spencer Art Library at the Nelson Atkins Museum of Art in the 1980s. I was given the popup book RUCKUS RODEO by Red Grooms as a gift by my staff and that was it! I was hooked and it started a chain reaction. I started receiving these as gifts, watching out for publications and starting to purchase. It was when I moved back to Kitsap County in the early 1990's that I began to seriously begin collecting in a modest way. I found a wonderful book shop in Poulsbo that carried a broad selection of pop-ups. When I moved to Bremerton from Silverdale, I started thinking about how to include them in exhibits. As curator of the Valentinetti Puppet Museum, I began including some books in puppet exhibits and connecting with the Kitsap Regional Library system was able to exhibit is several branches. In recent years I began searching for a home for the collection. It was fortuitous meeting Peter through our mutual connections in puppetry and learning of his interests in artists books and pop-ups and learning about Collins Library.
Jane: What is it about popups that you find so compelling?
Stan: They are so interactive, complex, and surprising. Early on I had acquired several examples of Robert Sabuda's works. He is perhaps one of THE masters of the art of paper engineering. The elaborate construction is always intriguing and paper engineers keep pushing the boundaries of how to create these unique publications. Also – popups appeal to the young and old! It is great to share a pop up with a child and experience their joy, but it is great to see similar reactions from adults! Pop ups also have a lot of elements that I associate with puppetry – many have small stages and moving parts, just like puppets.
Jane: I know this is impossible to answer, but I will ask anyway: Do you have any favorites?
Stan: I love all the books by the internationally recognized paper engineer Robert Sabuda. His books are fascinating and have won several awards. (Find out more about Sabuda here: http://www.robertsabuda.com/). I also love the classic children's stories and the architecture pop-ups are amazing as well. It was the discovery of the Moveable Book Society where I learned of the semiannual Meggendorfer Award, which set me on the search for those. I think the collection has all but the most current, since the inception of the award. Yes – you are right – it is impossible to name a favorite!
About Pop-Ups:
Pop -Up and moveable books have been around since the 13th century, but mass production began in the late 18th century. Some early moveable books were almost like miniature stages and were focused on topics appealing to children. Today, the popularity of these books remains. They engage the reader with the mechanics of the paper and construction and capture the imagination of the viewer/reader whether young or old. To learn more about this fascinating book form, visit these web sites:
Some examples from the Collection: