Each year the Collins Memorial Library sponsors an award for a graduating Art major. The monetary award is $250 and the honor of displaying their art work in a prominent spot in the library for a term of one year. The winning art work is selected from a preview of the senior show by a Library panel.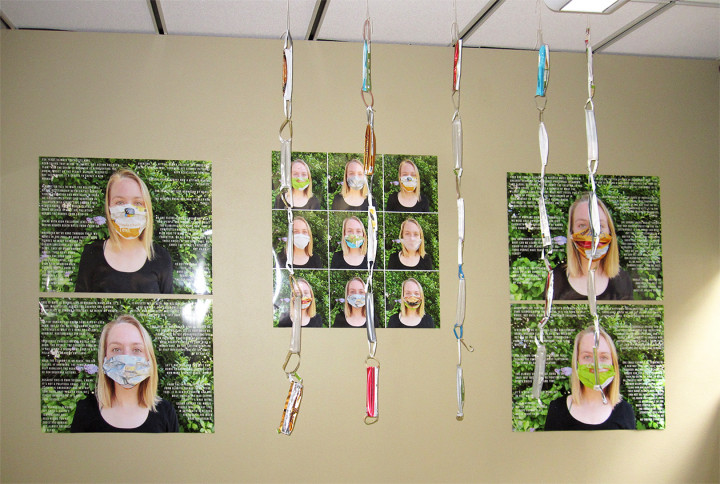 Collins Library is pleased to bestow the 2020 Senior Art Award to Bridget Myers for her works: "Climate Change in the Time of Coronavirus."
Comments from Angela Weaver, Fine & Performing Arts Liaison Librarian:
On behalf of the Collins Library, I am happy to announce the Senior Art Award for 2020. As many of you know, this is my first year at Puget Sound, and I'm pleased to be part of this ongoing tradition. When our library director Jane Carlin asked me to coordinate the award, I was delighted, as I have been impressed by the caliber of student work. Pandemic or no pandemic, it was important to all of us in the Library to offer this award, which comes with a cash prize and the opportunity to display the work in Collins for the upcoming year. So without further ado, I'm pleased to announce this year's award winner: Bridget Myers, for "Climate Change in the Time of Coronavirus."
In selecting Bridget, the committee cited the rigorous connection between her artist statement and the resulting pieces; the meticulous craftsmanship evident in the work; and finally, as library professionals, the quality and quantity of information gathered. Her resulting project is a case study in creativity through research and we are thrilled to honor her with this year's Senior Art Award. Congratulations, Bridget. ​​
Library Jurors:
Angela Weaver, Fine & Performing Arts Liaison Librarian
Jada Pelger, Information Resources Coordinator
Laura Edgar, Assistant Archivist

ARTIST STATEMENT: (View full exhibit)
The coronavirus pandemic has seeped into every crevice of our human existence. It dictates and restricts who we see, how we see them, where we go, how we consume, and our very livelihood. It impacts each and every one of us, simultaneously illuminating inequities in society that are only deepened during times of crisis. It underscores the incapability of government and highlights the importance of collective power to enact change. All the while, the pandemic forces us to slow down, to consume less, to reflect on our way of life, and confront our single-use, throw-away fast consumption that has destroyed our environment. It has shut us indoors, grounded planes, halted cruise lines, cleared highways, brightened smoggy skies, clarified waterways, and welcomed back species to former habitats.
The pandemic has simultaneously divided and unified us around the goal of flattening the curve and responding to this crisis. Through this, we are united under the same necessity of safety and health, represented by the simple face-covering mask. This image has become a symbol of the pandemic, creating a uniform of what a secure and healthy society looks like, shrouded by the sterile image of a flimsy, single-use face mask.
This project comments on the single-use nature of today's society, all the while necessitating the production of these throw-away products for our safety and health. Displayed collectively, these masks underscore the uniformity of our fearful human response to crisis, uniting us in the desire to overcome and find a cure for this pandemic. I've selected reclaimed single-use plastic as a medium for this project to emphasize the environmental healing that has resulted from this crisis. This microscopic, though destructive virus comes with a call to action, a reminder that we can indeed slow down, take time to reflect on our consumption, rewire our daily life, and refuse to return to the inefficient and unsustainable pre-pandemic "normal" way of life.