Each year the Collins Memorial Library sponsors an award for a graduating Art major. The monetary award is $250 and the honor of displaying their art work in a prominent spot in the library for a term of one year. The winning art work is selected from a preview of the senior show by a Library panel.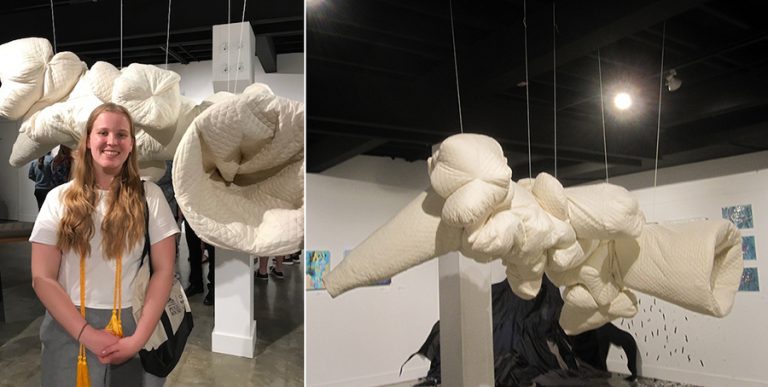 Collins Library is pleased to bestow the 2019 Senior Art Award to Ada Hoch-Schneider for her sculpture "Lobus."
Ada's work focuses on the importance of sustainability in design, and acknowledges everything has a monetary and environmental cost. The selection committee chose this work because of the artist's statement regarding her thoughtful use of recycled materials and her concern about contributing to the garage on earth. Out of discarded fabrics and single use items, Ada has pieced together an object that resembles a fluffy cloud. The sculpture "Lobus" evokes a sense of lightness, reminds us of childhoods spent outdoors, and suggests a positive approach to waste use is possible. Her whimsical cloud skillfully crafted out of discarded materials invites us to look at a different end for fabric and other resource waste.
We are proud to have "Lobus" grace the Learning Commons area of the Collins Library so Ada's artistic talents and important message can enrich our local community.
Congratulations Ada!
***
Artist Statement
I find myself unable to separate waste and my artistic practice. Waste has often been a point of contention in my work and life in general as I feel the need to know exactly how to work material, mould it, manipulate it, and struggle to justify my use of it as a resource. Unable to remove the monetary and environmental cost from my mind, room for exploration and margin of error dwindles. Every part of my work must be worth the resources and space it inhabits or else I have failed, contributing to the overflow of garbage we leave on this planet. I am invariably present in the work; my own worth invested in it, leaves me with little in the way of rational reasoning to pursue artistic expression at all.
Working with fabric waste I am able to set aside parts of my ego and my own insufficiencies. Making becomes a practice. Sewing becomes a self-examination. Through piecing together each cut edge, puckered seam and twisted contour, I test my limits of craft, colour, shape and line recovering my love for art and creation in a medium I have known so well. These leftover scraps are discarded silhouettes produced by an industry focused on the expression of self and individuality, but what it leaves behind is, in part, more informative then the products designed. The material allows me to recall my love of fashion and sewing without my practice taking a backseat to the investment of resources. The only goal being the work itself and giving three dimensional form to something that often remains invisible.
About the Judges:
Hilary Robbeloth is a Metadata Librarian at Collins Library.
Jada Pelger is the Information Resources Coordinator at Collins Library.
Jamie Spaine is Administrative Coordinator at Collins Library.
Lori Ricigliano is the Associate Director for User Services at Collins Library.
This piece is located on the first floor in the Learning Commons