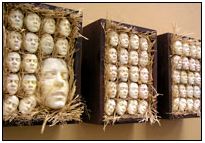 Lyndsey Nichols (Photo on left) is the current recipient of the annual Library Art Award for her work "Nestlings," which will be on display in the library for one year. A Washington native, Lyndsey grew up in Olympia. She became interested in art at an early age and recently completed a Bachelor of Arts degree in Studio Art at Puget Sound. A recurring theme of Lyndsey's work is self-expression, heavily influenced by ideas concerning the human body, anatomy, and processes of the subconscious mind. Although Lyndsey began her art career as a two dimensional artist, she gradually moved towards three dimensional, interdisciplinary works to better communicate and integrate the viewer into the piece. Lyndsey's future plans include continuing to explore mixed-media and pursuing an MFA.
Artist's Statement
The subconscious mind is said to play a critical role in the subliminal processing of information. Most commonly linked to dreams, the subconscious can define other activities as well, such as image creation. As in dreams, images generated by subconscious responses can combine seemingly unrelated elements in extraordinary ways. Though these amalgamations may not appear logical, they are frequently indicative of an internal mental state and are likely to reveal important mechanisms and non-rational relationships used by the mind to process and manage information.
These pieces are direct and unfiltered reactions to the ways my subconscious mind copes with the intangible nature of relationships and major transitions. These pieces are the material translations of internal responses to such intimate and pivotal aspects of experience. They embody and reenact significant experiences I have undergone, though in a very personal way.
– Lyndsey Nichols