I would like to apologize ahead of time because this is going to be a long post… It's been 3 jam-packed weeks. Where to start… October has been a very busy and exciting month abroad, I can hardly believe that it's almost Halloween and the program is half way done. We started classes on October 1st and every weekend has been filled with adventure; including a trip to Portugal, a weekend in Seville, and a visit to the Capilla Real to see the tombs of Isabel and Ferdinand.
Classes
Crazy right, we take classes while we're abroad? I'm in 4 classes, one of which is a writing and speaking class that is designed to help prepare us for the DELE exam on November 22nd. I don't know if I should credit it to this class, but since I've been here I feel that my confidence in speaking has increased dramatically. I've gotten over my fear of making mistakes and simply decided to speak up, and usually I'm able to get my point across quite well. In addition to this class I have 2 intercambios (people I meet with weekly to practice my Spanish with and then to help them practice their English), my salsa and in line skating classes with university students from Granada, and my growing group of Spanish friends, all of which help me to improve my speaking abilities and work on my confidence.
I'm also taking a class on the political systems of the European Union and Spain, which is a nice dose of politics (in Spanish) to keep me on track for my IPE major. Of course, I do have the lingering fear in the back of my head that I couldn't explain anything I've learned in that class in English, but I'll cross that hurdle when I come to it. My most difficult class would be Islamic Culture in Al Andalus, we haven't actually reached the point in history where the Islamic empire came to the Iberian Peninsula, but have focused on the life of Mohammad and what happened directly after his death. The struggles I experience with this class come from the mix of Spanish and Arabic words all spoken with a strong Andalusian accent, but I appreciate the challenge.
Lastly we're continuing our class on Spanish History and Culture. We have finally arrived at the Transition, the period directly after the fall of Franco. The best part about this class is it prepares us for every trip we take with our program. For example, we've studied all of the most famous Spanish artists featured in El Prado museum in Madrid, and we're going to Madrid next week with our program and spending an afternoon at the Prado.
Portugal
Two weeks ago I went to Lagos, Portugal with a student travel program called Discover Excursions. I generally choose to travel without programs like this because I feel like you miss out on the opportunity to meet locals and experience the local culture when you're surrounded by a large group of tourists, but after planning my trip to Barcelona and Ireland, and working out the details of all my upcoming travel plans I was a little burnt out and chose to let someone else plan my vacation for me, and I'm glad I did.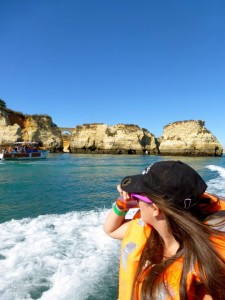 I went with 11 other people from the ILACA program. All I needed to do was show up at 6 am at the bus stop ready to go, and the trip was amazing. We got to Portugal around 1pm and almost immediately were taken to a sailboat tour where we were taken out into the ocean and anchored down. The side of the boat became our swimming pool and we were able to enjoy the beautiful cliffs of Portugal from the ocean. We also were taken from the boat on a much smaller boat to go up and explore all the grottos along the coast. After a few hours out at sea we were taken back to the hotel and then walked into town and given recommendations for some good places to eat. I went to a Thai restaurant with some other students from UPS (coincidentally) and we tried Portugal's local drink, "Green Wine," somewhere between a champagne and a wine along with some Pumpkin Pork Curry.
The next day we went sea kayaking along the coastline, also organized by the program for us. We stopped at a little beach that is only accessible by kayak and went snorkeling. The beaches of Portugal are literally something out of a fairytale. I never thought that I would actually see places that pretty in person, and being there was like being in a dream or some high budget film.
That night we were taken to what used to be thought of as "The end of the world." Being there I could truly see, for the first time in my life, why people used to think the world was flat. Standing on those cliffs, I thought Christopher Columbus must have been a madman to try to sail from there out into the open seas and over the edge of the world. We were there to see the sunset, which was unfortunately blocked by clouds, but it didn't make it any less beautiful.
Finally, on Sunday we were taken to a National Park on the west coast of Portugal just outside of Lagos. The beach was breathtaking and I spent my entire day lying on my towel, basking in the sun, and diving in the ocean.
As I said, I am not generally a proponent of planned excursions like these, but I think Discover did an incredible job, not only of ensuring that we saw a lot of the most breathtaking parts of Lagos, but also of making sure that we didn't feel too much like a large group of tourists. We were given the space to spread out and explore on our own anywhere we went, so long as we made it back to the bus on time.
Seville
So last weekend our program had a planned trip to Seville. I have a few friends from high school studying abroad there so I decided to go a day early and catch up. One of the most interesting parts of being abroad for me is what I miss about home. Every time I travel it's something different. Of course there is the given foods that I start to crave, but beyond that it's something else. This trip I've been missing simple things, like telling someone a story and them knowing who I'm talking about when I mention a friends name, hugs, cold air and a refreshing breeze, and the ability to wear a sweater. While I can't do anything about the last two just yet, being with friends from home in Seville made the first two less prominent. I got a good fill of hugs and I was able to reminisce in high school memories with people who knew what I was talking about.
When the program showed up we went straight to Italica, the first Roman city outside of Italy. We had a lovely guide named América who told us in great detail everything she knew about the families that used to occupy these houses. Only a small part of the city has been excavated, as the majority of it lies under a modern city that they can't simply tear down in the name of archeological research. However, the part that is excavated is where the upper class lived, so we got to see some of the large houses built around gardens that people lived in over 2000 years ago. Unfortunately a lot of the stones were stolen when the road from Sevilla to Compostela de Santiago was built, but what remained was quite incredible. My favorite part was the old bread ovens. But I was also surprised to learn that the structure of houses hasn't changed much in the last 2000 years. In the larger, fully excavated house, you entered into the foyer, which was bordered on either side with a room. One of which was a sitting room, the other a bedroom. In the center of the house was a garden, just like many of the modern Spanish houses. Around the outside of the house were small rooms that used to be shops. One was a bread shop, the others we could only speculate about. It was just like the little shops that sit at the bottom of apartment buildings in the cities of the 21st century.
(Photo Credit for Italica: Erika Fisher… I was too distracted to take photos…)
Then we headed into Seville for some lunch and free time. We wandered around the city a bit and headed to the Plaza de España. It was quite beautiful. There are small mosaics all around the city that depict scenes from different cities around Spain. We then hopped on some tandem bicycles and rode around the park. If you ever happen to be in Plaza de España during a sunny afternoon, I highly recommend doing this. It was cheap and we got to see the park 5 times over and get a break from the constant walking that has characterized my time in Spain.
The next day we walked through the Jewish quarter of the city, which has been renamed Santa Cruz (not Jewish at all…). We were back with our guides from the day before, and this time they switched so we had the guide the other group had the day before in Itálica. She had some lovely stories about the houses and squares in the Jewish quarter. For example, there was one house with a skull on the outside of it. She said that there was a Jewish girl who lived there who fell in love with a Catholic. Her dad then planned to kill him. The girl informed the man about this plan, and her boyfriends family killed her entire family and she survived. When she died she requested her skull be put on the building to serve as a reminder of the evils of love.
Then off to the largest Gothic Cathedral in the world, and the third largest Cathedral of any kind in the world. While the size of this cathedral was incredible, there were several things that really stood out to me. First, I got to see Christopher Columbus's remains! He's been moved around the world a whole lot, and has been "buried" in 5 different locations, but he's finally ended up in the Cathedral of Seville. I feel a little bad about this end to his journey because dear old Chris requested that he not be buried under Spanish soil. In order to get around this little hurdle, they decided to put him in a tomb carried by four statues in the cathedral; therefore he's not technically "under Spanish soil," but rather hovering above it.
Secondly, they have a treasure room. This room holds some of the most beautifully decorated and extravagant dining ware I have ever seen in my life. There were silver pitchers laden with different gemstones, golden goblets the size of my arm inlaid with rubies and emeralds, and large silver platters elaborately decorated. Topping all of this, there were old crowns that were made of gold and had more precious stones on them than I could count.
Lastly, the Giralda – a tower at the edge of the church – which is the tallest building to this day in Sevilla and gives a view of the whole city to anyone willing to climb it. When we reached the top I was not only awestruck by all the beautiful views, but also by the clouds, which looked like they had been painted into the sky. While we were atop the tower, it was 2:45 and the bells began to toll, one of the most deafening and unique experiences I've had to this day is standing directly beneath a bell atop a tower in the center of Sevilla as it began swing back and forth signaling the quarter hour that had passed.Capilla Real y Catedral de Granada
The last story of the month that I'll bore you with is my visit to the Capilla Real and Cathedral of Granada, two of the most famous buildings in Spain (in my opinion at least, which may be slightly swayed because I'm living in Granada). The Capilla Real is where Ferdinand and Isabel are buried and you can actually go under ground and see their coffins… I unfortunately was not able to take any pictures of their tombs, but they're quite incredible. They are laid on a bed taller than me with pillows stacked under their heads. One of my favorite parts was a little subtlety included by the sculptor. Isabel's pillow is slightly more depressed than that of Ferdinand, showing that she had a heavier head and bigger brain than him. Of course we all knew that Isabel was in charge… she had Castilla! Right next to them in a tombstone of equal grandeur was Juana la Loca and Felipe el Hermoso (Crazy Joanna and Handsome Philip…). Under the tombstone you could see their coffins right alongside a slightly smaller one of their first son who passed away as a child.
Next we moved over to the Cathedral of Granada. Carlos V had this constructed alongside the Capilla Real as he wanted all of the Kings and Queens of Spain to buried in Granada, but he didn't think the Capilla Real had enough grandeur to preserve all the future royalty of Spain. The center of the Cathedral is a circular altar that rises up to a dome at the top. Every level going down shows the distance of different individuals from God. With the angels near the top and moving down toward the Apostles one level above ground. Unfortunately Carlos V is the only one that was buried here because his successor, Filipe II, built the Escorial and moved the capital to Madrid.
Memories in Granada…
I would like to end with some of the fun things I've done around Granada, because it's not all about the sight seeing…
Dancing with locals in a plaza at night….
Making paella with my host mom…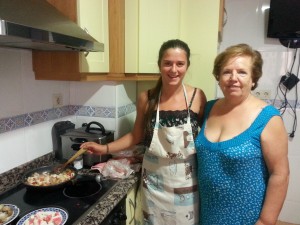 Finding new study spots…
Tapas…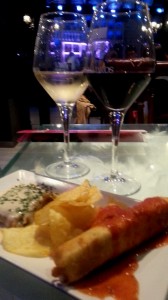 I've made many other lasting memories over the last few weeks, but I'll leave it at that in the hope that if I don't drag on too long you'll want to continue reading my posts in the future.