I'm not leaving Dublin just yet.  I wanted to get that out there, just for complete honesty's sake.  I am, however, leaving Dublin very soon, and most of the students in my program left today.  I am hitting up Rome for a few days, then dropping by Dublin again before I depart Europe entirely.  I'm leaving in a week.  I'm keeping sadness at bay by just looking at the town where I got to spent three and a half glorious, adventurous, hilarious months.
I'm still finding new things to entertain and amaze me.  For example: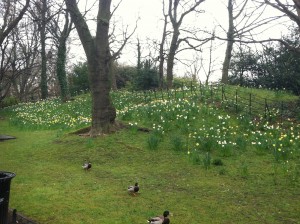 In St. Stephen's Green, there is a rolling little hill that is now blooming with daffodils.  It's like something out of a children's book.
Here we have Jesus and Mary in a snowglobe.  I snicker every time.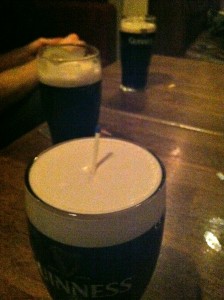 Ah, the proof that a pint is perfectly poured!  The foam on the top of your Guinness should be able to hold a match upright.  Note that this does not apply if you've taken a sip first. (I don't like Guinness but it is a beautiful drink–the fact that it changes color from latte-brown to black within a minute constantly impresses me.)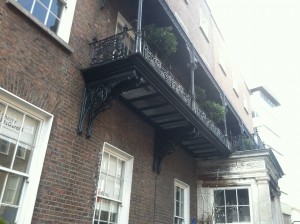 I have always adored this balcony.  It's a second-floor one and it just looks so pretty and so out of place on this building.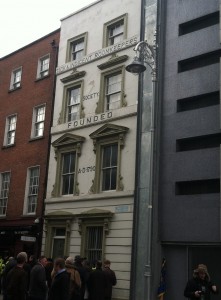 It's sadly hard to read, but this building says "Sick and Indicent Roomkeepers Society Founded A.D. 1790."  I have no idea what goes on in there.  I'm not sure I want to find out.  Perhaps it's been quarantined.
I will hopefully post a few things about Rome after I return from there but my study abroad experience, my travels, and my blogging are drawing to a close.  I'll probably have some sappy reflections on my life in my last post, so consider yourselves warned!