Within the first twenty-four hours of living in the greater Tokyo area, I was overjoyed to quickly find my place amid the Chiba prefecture's serene, though hardly idle, urban culture.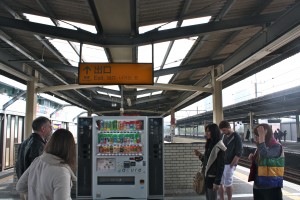 After an extensive introduction to our abroad experience, which included a tour of our hotel and information about its surrounding restaurants, I went to try some of the native food that initially spurred my obsession with Japan as a ten-year-old: sushi, or, as the Japanese indicate anything worthy of honor by adding "o" as a prefix, osushi!
With the astute advice of my new Japanese conversation partner, Asuka, we decided on an affordable nearby sushiya known as Yamato.
Asuka is a Chinese major who tells me she loves movies and shopping, things that I can talk anybody's ear off about, and she strikes me as both insightful, though fairly soft-spoken.
For the price of 735 yen, roughly $7.50, I bought a mixed plate of osushi, which also included complimentary green tea, or ocha, and miso soup.
Throughout our dinner, Asuka and I shared our thoughts about the food and Japanese culture through bouts of Japanese and English ("Japenglish," as I like to call it) and we both agreed that Yamato had incredible osushi for such a humble price.
Apparently, other locals had the same idea because ten minutes or so after we arrived, the already cramped restaurant was filled up with everyone shoulder-to-shoulder at both the tables and the sushi bar.
Even so, the sushi chefs were willing to chat with me about their favorite kinds of osushi to work with, adding every now and then that my Japanese was good and that they were elated to serve both my friend and I.
I've been to both Virginia and Texas before and I can now say with no small measure of conviction that the Japanese humble style of hospitality blows so-called "Southern hospitality" out of the water.
Sorry I'm not sorry for saying so.
The next day, I went to a noodle shop inside one of the malls nearby Hotel Springs Makuhari with some particularly amicable study abroad students.
For the sake of branching out, many of us ordered food that we had either never heard of or never tried—I for one ordered udon with vegetarian fried rice because I really couldn't imagine anything that sounded more delicious in the moment.
I also couldn't imagine anything more perfect to compliment it than the cigarette my new friend from University of Minnesota had offered me.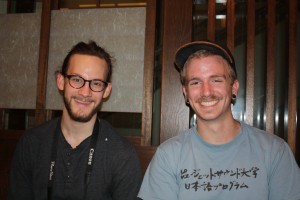 We had both forgotten that, in Japan, smoking during dinner is totally fine until we walked into the restaurant and noticed a duo of two particularly mischievous looking Japanese youths smoking and drinking beer in the corner.
Needless to say, we both concurred in the statement he made then: "Dude, I love this place."