I feel rather immersed in Irish culture by this point (as I should–it's midterm this week which means I've been here 6 whole school weeks).  I can take buses to where I need to go, I can take trains and taxis, I can find Trinity and St. Stephen's Green and O'Connell Street…
This week in particular I've felt like I'm part of the city.  Last Saturday I went to the Jameson Film Festival and saw the Irish premier of Cloud Atlas.
It was quite a beautiful movie.  I've heard it got a lot of crap or a lot of disinterest, but I'd recommend it.  I found it beautiful.  I like strange movies and beautiful cinematography, and it made me feel very connected to everyone in the theatre.  It's the first movie I've ever seen on my own.  Kinda a weird thing to say, but it's true.
I also went to see a play!  I saw King Lear at the Abbey Theatre.  FUN FACT TIME The Abbey theatre was the second national theatre (the first one's in Munich I think) and was established by William Butler Yeats and Lady Gregory.  The theatre in Ireland traditionally spread the news before there were newspapers or phones readily available.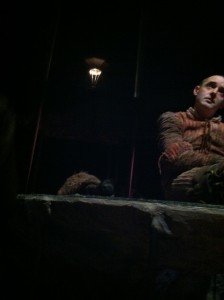 It's hard to get a sense of the play because I took crap pictures, but this guy was the Fool.  He sat out on stage at first and he was really good.  He was my favorite first-act character.  By the way, this was the first time I'd ever seen the play, so I didn't know what was going to happen.  Edgar turns out to be important, who knew!  He was my favorite second-act character.  The play did some great visual things and some dance stuff I didn't really like, but they had Irish wolfhounds wander across the stage at random intervals!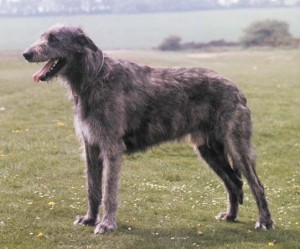 I got to pet them afterward (this isn't my picture, it's from Google).  They felt like carpets.
On my way back from rock climbing one day, I stopped by a little shop on Harcourt Street.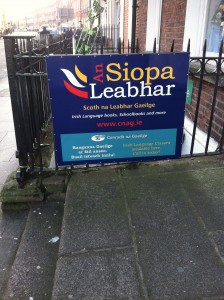 It's an Irish language store with an Irish-speaking bar in the basement!  I bought a grammar and looked at all the books they'd translated into Irish.  The shop owners were speaking Irish with a couple of people in the store, and it was the first time I realized I was in a foreign country.  I had no idea what they were saying.  Sometimes I'd catch an 'agus,' which I know means 'and,' but that's all.  I'll probably go back.  They had The Hobbit in Irish and it looked very, very cool.  Couldn't read a word of it, but it looked neat.  And they had Harry Potter and the Philosopher's Stone, which was "Harry Potter agus an Órchloch" in Irish.
Finally, two strange Irish things I experienced.  First, I found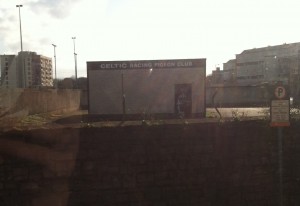 the Celtic Racing Pigeon Club.  Who knew?
Secondly, I had the most dangerous drink in Ireland: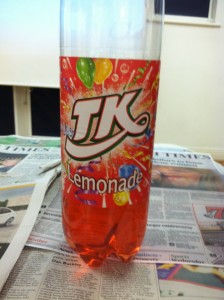 It has a red dye in it that caused ADHD in children and other neurological disorders.  It's illegal in most European countries, but not Ireland!
Tasted a bit like hand sanitizer, but not in a terrible way.  If you can imagine.
So!  Still experienced the good, the bad, and the weird of Ireland here!  I'm going on a trip with my dad soon so I'll have something more interesting to share next week!  Until then, I'm going to keep my eyes peeled for more strange, wonderful things in this fantastic country!