Mid-November brought with it our second and last IFSA-Butler sponsored trip, and it was one we'd all been waiting for since we arrived in Ireland. Not only is Belfast one of the top ten cities in Europe to visit (or so they say) but it is a city that seems to exert a pull on everyone in Ireland.
That pull notwithstanding, Belfast is about as far away from Cork as can be. Had we all had iron bums (and bladders) we could have made the bus ride in about five and a half hours; as it was, we left on Thursday morning at 10:30 a.m. and arrived at about 5:30 or 6:00 in the evening—just in time for dinner. I'd had a rough week prior to the trip, so, though I felt chipper but tired when I got on the bus, I had a sore throat when I disembarked. I am learning that those with delicate health should not come to Ireland; this was the beginning of my third cold during the teaching period, and I know quite a few other exchange students who have fared worse. Anyway, my first evening in Belfast was singularly uneventful. I ate, went in search of LemSip to keep the cold at bay (and more than a spoonful of sugar was needed to make that medicine go down), showered, and crawled into bed.
Here, your narrator will leave herself snuffling and snorking about in her sleep for a brief discussion of Northern Irish history. My Celtic Literature class has focused throughout the course on Irish mythology that was first written down in the 8th or 9th century (or maybe even a century or two before that) by Irish monks; however, these stories are much older. How old, we don't quite know. At any rate, the central text for the course is the Táin Bó Cúailnge (The Cattle Raid of Cooley), which details the conflicts between the Connachtá and the Ulaid (or Ulstermen). At the time, Ireland was divided into cúige, or fifths: Munster, Leinster, Connacht, Ulster, and the now-vanished or mythical Mide. Six of the nine counties of the original Ulster now make up Northern Ireland. Those six counties were deemed predominantly Protestant at the time of the division of Ireland in the 1920s, so they remained under England's rule while the rest of Ireland became a republic. By predominantly Protestant, of course, I mean that about 47% of the population was Catholic at the time, a concept that more than one politician has failed to grasp.
I intend no disrespect to Irish history when I skip over a millennium of it, but if I don't cut it short I will rhapsodize for hours about the absolute awesomeness of the antiquity of Irish names and places. All I can say is: A few centuries are a pittance of time here in the grand scheme of things. Now, enough is enough!
LemSip carried me through the night cheerfully enough, and I joined the rest of the group for another "full Irish breakfast," including the requisite, suspiciously soggy egg-like dish, at the hotel on Friday morning. Then, we headed off on our bus tour around Northern Ireland. Our first stop was at a rope bridge spanning the gap between the mainland and an island. Before you get the incorrect impression that I walked for miles on a swaying rope bridge over the depths of the Atlantic, buffeted by the wind and the rain, know that the bridge was only fifty feet long and
the island was merely a spit of rock. Originally intended as a seasonal passage for fishermen, the bridge has now become a tourist trap. Nonetheless, it was windy and rainy, and the chasm beneath was deep. It was a trip best made quickly! Once across, we had time to admire the force of the waves against the cliffs. The ground was boggy, and more than one of us came back with a muddy seat. I stayed dry, but, at one point, I spotted a fellow student zooming toward the edge of the rocks on her backside, trying to stop herself with one hand and holding her expensive camera in the air with the other.
The bus ride was long enough that our second stop was at lunchtime. Afterward, we headed to
Dunluce Castle. Though it was built in the 1500s and is several centuries younger than Blarney Castle, it is wholly ruined. It is an impressive sight nonetheless, perched on the edge of the cliffs. The sea has carved a hole through the rock beneath the castle; apparently, the kitchen fell off at one point, straight into the water. Bon appetit! Methinks the whole castle will have disintegrated into the sea in 500 years.
Lastly, we stopped at the Giant's Causeway,  a beach covered with truly extraordinary rocks. An ancient volcanic eruption left clusters of hexagonal basalt columns stretching down into the sea. At least, that's the scientific explanation. Legend has it that Fionn mac Cumhaill, a contemporary of the Táin Bó Cúailnge, created this causeway and
built it all the way across to Scotland, where he met a giant.
Fionn ran home and, at his wife's ingenious suggestion, disguised himself as a baby and hopped in a cradle. When the giant came knocking at the door, Fionn's wife showed him the "baby." The giant was dumbfounded at the size of the "son" and fled, in terror of the father, ripping up the causeway as he went to prevent Fionn from following. Whatever the source, this beach, with its spectacular rocks and high waves, was a grand finish to the day.
We were on our own for dinner back in Belfast, so some friends and I enjoyed a night out at a Lebanese restaurant before paying visits to several different pubs.
On Saturday, we were met at the front doors of the hotel by black taxis for a tour of Belfast. The first stop was in the Protestant quarter. There, the walls are painted with murals commemorating the upheaval in the city and serving as a memorial for members of the loyalist Ulster Defense Association and similar organizations. Two, in particular, stand out. One is a memorial of Stevie "Top Gun" McKeag, a brutal assassin who singled out and killed more than twenty victims. As our tour guide said, "One man's freedom fighter is another man's terrorist." The other is a depiction of a masked sniper. Rather like the Mona Lisa's eyes, his gun barrel follows you as you pass by.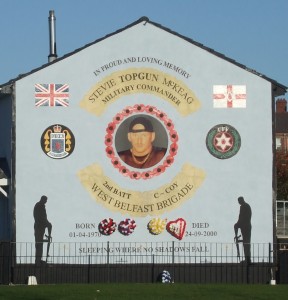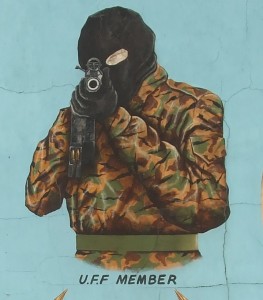 On our way out of the Protestant district, we stopped by the Peace Wall, which is actually one of eighty-eight in Northern Ireland; forty-eight of them are in Belfast. Unlike the Berlin Wall, these walls are designed to separate, not contain. The British built these walls to place a division
between Catholic and Protestant neighborhoods, and the walls will go down when residents wish them to. Recently, the city brought in artists to repaint the walls with peaceful images over which thousands of visitors have written their names and best wishes. Our taxi driver distributed pens, and I, too, had a chance to sign my name on the Peace Wall.
Next, we stopped in the Catholic district at a memorial commemorating those who died in the fighting. Photographs
of fallen IRA members line the walls, and the deaths of civilians and volunteers are recorded in marble. Quite a few on that list of names were murdered by Stevie McKeag.
Finally, we stopped to view one last wall mural. Rather, it was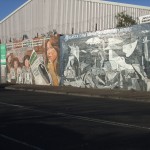 a series of murals, some painted in response to the fighting in Belfast and others depicting humanitarian issues around the world. Then, we returned to the hotel for lunch. It was a sobering tour indeed, and it was a relief to take a break from grim history.
IFSA-Butler arranged an impromptu bus tour for any of us who wished to see more of Belfast. Many disembarked at the Titanic Museum, and only ten of us remained on the bus. We visited
Belfast's dry docks, even getting a close-up of the two massive cranes that dominate the city skyline: Sampson and Goliath. We drove by the college attended by C. S. Lewis, stopped at the parliament building, and took in a few more murals before returning to the hotel for our last night in Belfast.
That last night concluded with a joyous event: the opening of the Belfast Christmas Market. If you had tickets (or even if you
didn't), you could see a street concert featuring plenty of Christmas carols. There were stands selling Christmas cacti and holly, mulled wine, exotic (think kangaroo, wild boar, and alligator) burgers, waffles, fudge, French soaps, Lapland slippers…I thought I would be rolling, rather than walking, when I left! My friends and I were fortunate in our timing; just as we were preparing to leave, they lit up the trees. Streets all the way around the square were decorated and glowing. I'm surprised any of the houses on the block had power!
Anyway, such an evening of delicious food and foreign goods was a fine conclusion to a fascinating trip. While I wasn't ready to head back to Cork on Sunday morning, I certainly had a full weekend. I would visit Belfast again in a heartbeat, but it is not a city in which one looks for grandeur. Rather, the city, like its history, is gritty and troubled. Do not go looking for glorious architecture; you will find bitter memories and bloodshed.