21. October 2012
I know we "live in a world of increasing globalization", a world in which studying abroad is strongly encouraged (particularly at UPS), and more and more young adults are choosing jobs after college which allow them to travel, to see the world.  Not just PeaceCorps or the JET program, or the Fulbright, but also jobs which actually relate to a career!  My generation wants to travel, and get paid to do it.  I feel incredibly privileged to have the good fortune to be one such person.
This weekend I traveled to Bremen.  Bremen!  I read The Town Musicians of Bremen as a child, and I can't believe I was just there!  It is like falling into a fairy tale.  With the assistance of 1 bus and 4 trains, I finally reached Bremen at quarter-til-five on Friday.  Mackenzie, the Fulbright ETA stationed in Bremen, and a fantastic person, met me at my platform.  We left my pack at her apartment (she lives on an island!), and ventured forth into the city of Bremen.  We first ate dinner at "Tom & Karo", which is short for "Tomaten und Karotten", and is an all-vegetarian/vegan diner.  Feeling adventurous, I ordered the "Tropical Burger", which consists of a seitan-burger patty, vegan mayo, a mango-curry sauce, your normal array of vegetables (tomato, onion, lettuce), and freshly grilled pineapple.  ZOMG.  That was the best-tasting burger I've ever had the pleasure of enjoying.  It was mind-blowing, how amazing it was.  I am going to be dreaming about that burger.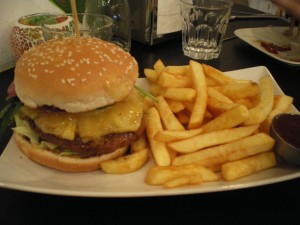 Afterwards, we took a Strassenbahn to the Freimarkt.  I had no idea what a Freimarkt was, but I imagined something similar to the Christmas Markets I had been to, in Dec. 2010.  I was wrong.  The Freimarkt is a lot like a county fair:  crazy rides, games for those who want to spend a lot of money trying to win a stuffed animal, greasy food, and even cotton candy.  No animals, large vegetables, or home-baked pies, though.  Apparently, the Bremen Freimarkt is the largest in all of Germany, and this year was the 997th year.  It runs for 2 weeks in October, and I was just lucky enough to happen to be in town the starting weekend!  We wandered around for 2.5 hours, marveling at the rides and the insane people on them, and enjoying the music.  We did go up on the Reisenrad (ferris wheel), which apparently is the largest transportable ferris wheel in the world.  (The largest non-transportable ferris wheel is the Singapore Flyer in Singapore).  Each ride costs 4 Euros or more, so we didn't want to spend that much money, but decided the ferris wheel was worth it.  Seeing Bremen from that high up was so cool.  And it was night, so we could see all of the lights, and the entire Freimarkt.  Beautiful in all its energy-hogging neon-lit glory.  Like the old, college-matriculated people we are, we went to bed a whole hour before midnight.
Saturday– yesterday– was the best day.  Probably not of my entire life, but pretty close.  In the morning, Mackenzie gave me a tour of the Altstadt.  Conveniently, all of the best tourist attractions are within a few blocks of each other, so it is super easy to see everything in just a couple of hours.
After the tour, we went to Vegefarm, a vegetarian restaurant that had been recommended to us by a friend.  There, we met up with Arvina.  I've known Arvina for 1 3/4 years, since I stayed on her couch for a few days in Luxembourg.  We've stayed in touch, and since she now lives in Bremen, it was really exciting to see her again.  How quickly the years pass!
In the afternoon, SCIENCE!  We went to the Universium.  There are no words to describe its awesomeness.  I am too awed to speak.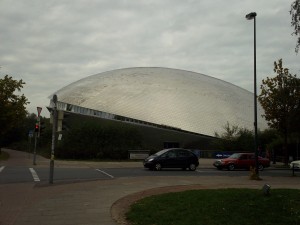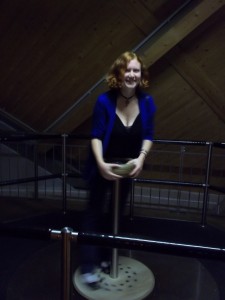 And, finally, the main event.  The reason for visiting Mackenzie this particular weekend.  The experience I have been eagerly awaiting for over a month:  THE WISE GUYS CONCERT!!!!!!!!!!!!!!!!!!!!!!!!!!!!!!!!!!!!!!  I suppose the demographic of Americans who enjoy German A Capella pop music is not very large, but I have had the good fortune to find in Mackenzie a vegetarian friend who not only adores Joss Whedon's work, but also enjoys The Wise Guys.