Classes were finished, finals were approaching, spring was springing. So, naturally, I took off with my boys in a green and purple camper van for 12 days.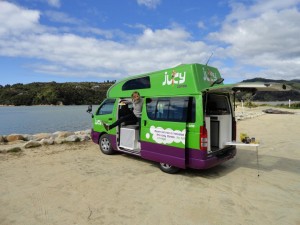 (Above picture taken by Connor of course)
14 October
The Tea Party! Drinking is sure to commence by 8am for most university students. I had had ridiculously little sleep that week, so my morning was not as impressive as most of the kids surrounding me (6 before 6, 7 before 7, 8 before 8, wine before nine..etc ((don't worry mama I was a classy lady)). Ilam was bumpin' by 6:30am and I was in my LDOC costume by 8am. I attended one of my classes, and it was the most depressing thing ever, so I quickly rejoined 90% of the student population at the beer garden-style concert. Let me tell you, Kiwis know how to do costumes. There were some brilliant pieces of work out there.
15 October: Lift Off
Again, little sleep was had. We woke up early, packed up our things, went and got the van, and went grocery shopping. We were on the road by 3:30 and ended up parked on the side of a little country road outside of Nelson for the night. We knew our trip was going to be great (how could it not with our list of destinations) but little did we know, this trip would end up being one of the best two weeks we had ever experienced.
16 October: Abel Tasman
This small national park is located at the very top of the south island. This first day we took a water taxi up the bay and did a 5 hour hike back to the town, stopping at various beaches.
That night was one of the few times we caved and paid for a camping spot, although it was nice to have a toilet and a kitchen. Also that evening; All Blacks over Australia, putting them straight to the final versus France the next Sunday.
17 October: Abel Tasman
We remained at Abel and did some sea kayaking. It was really fun and really beautiful, but my weak womanly stature made 4 hours of paddling really difficult. Luckily, I was sharing a kayak with a fine crewman.

Just as it started to rain we headed south to the Te Waikoropupu Springs, which is known for it's clarity and the crazy amount of water gushing out of the ground (14,000 litres per second).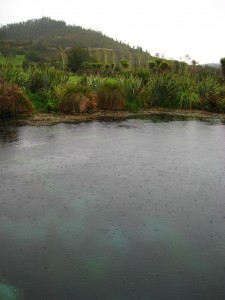 Video: The gang goes to the spring
We then made another stop at a natural limestone labyrinth, which was a huge, random rocky maze near the main road. People bring little toys and weird things and put them along the walls or in trees, which made the labyrinth whimsical but creepy and surreal at the same time, and even we got a little turned around on our way out.
18 October: Pancake Rocks and Parking Lots
The highlight of this day would be the Pancake Rocks, which are along the west coast in Punakaiki.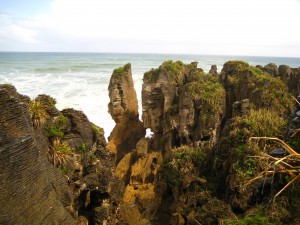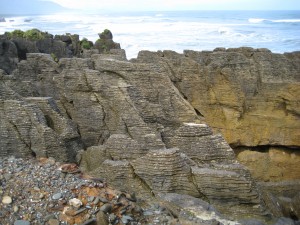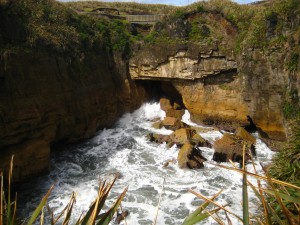 We made our way to the glaciers (Fox and Franz Joseph) and camped in an Indian restaurant's parking lot because we're classy like that. But before that we were able to hike up to Fox Glacier: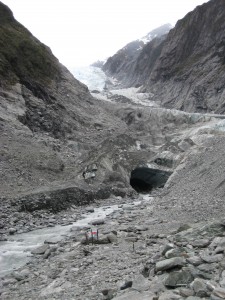 19 October: Sky Dive Franz
It was beautiful! Glaciers, mountains, ocean, fields in the late afternoon. Glorious. Basically,
-15,000 ft
-1 minute free fall
-sick

We then drove to Lake Wanaka, getting in around 1am. Unfortunately we were woken up 5 hours later to a park official telling us to gtfo before we get a 200$ ticket. So we went and parked somewhere else.
Here's the lake: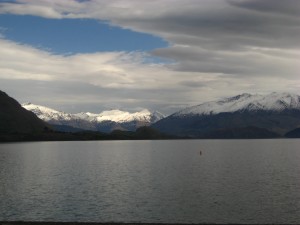 We went on the most beautiful hike which was probably my favorite part of the entire trip. It was only 1.5 hours to the top, but once we were there we had an amazing 360 view.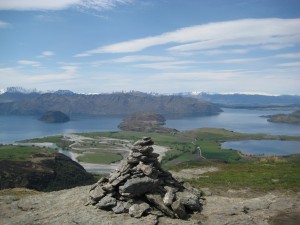 We laid at the top for almost an hour enjoying the sunshine and realizing that this trip was just getting better and better. Sometimes New Zealand made us feel like the only people in the world, in a really good way.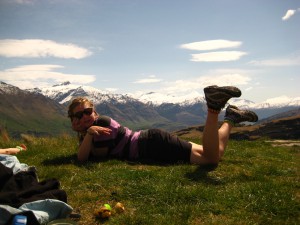 20-23 October: Queenstown
A ski town-esque tourist trap on Lake Wakatipu, full of bungee jumping, restaurants, fine shopping, beautiful views, bar crawls. It was nice to be in the same place for 4 nights and it kept us busy.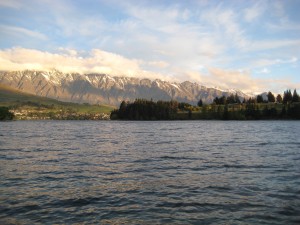 Making pancakes in random neighborhoods with killer views:


Bungee jump site:


On Sunday we did a pretty challenging day hike, but the summit was incredible:

Oh yeah…New Zealand won the world cup.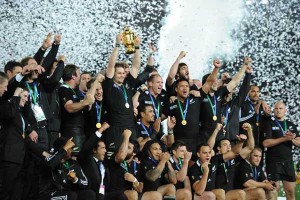 24 October: Fiordland at Milford Sound
Absolutely amazing. My pictures do not do this place justice. It was rainy, misty, and cold, but the Fiordland was one of the coolest places I've ever been to. If you didn't know, a fiord is a long, steep inlet formed by glaciers. So they're basically huge rock formations jetting out of the water. If I had to make a movie reference it would definitely be to Avatar; the rain forest climate and intimidating geology was unlike anything I'd ever experienced. We went on a two hour cruise and even though it was rainy and windy I loved every minute of it. There are countless waterfalls flowing off of all the fiords, and since it's so windy there were a ton of waterfalls that were just blowing up into the sky. Magical. Amazing. I can see why this is one of the most talked about places in New Zealand. Again, my pictures don't do it justice, they might as well be crayon sketches that fail in comparison to my glowing memory of the sound.
Video: Waterfall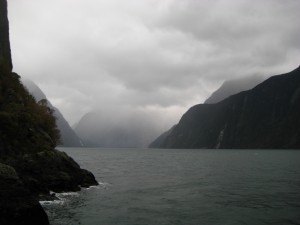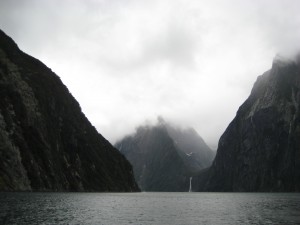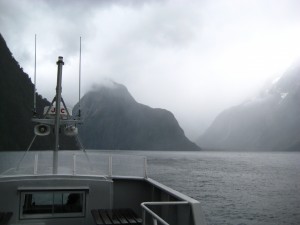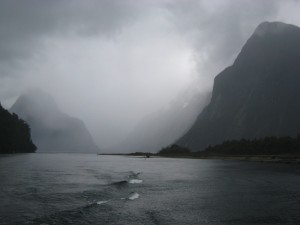 Mirror Lakes: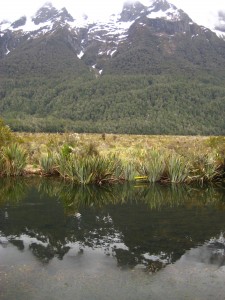 25 October: Mt. Cook
At last our amazing luck ran out, and Mt. Cook was rainy and cold, so for the night we just chilled and listened to the thunderstorm that shook our van until early in the morning. The next day the boys went on a hike but I stayed in the little town because I felt real sick and wanted a break from the tramping life. So I did really important things like drink coffee and go on facebook.
26 October: Lake Tekapo
Some bergs before the lake: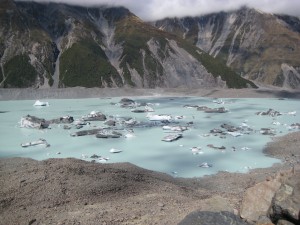 Right in the middle of the south island, Lake Tekapo was gorgeous. It was bittersweet as it was our last stop, but we all had to accept that the van life couldn't last forever. The last night we just camped out on the side of a hill and watched darkness fall as clouds melted over the mountains towards the lake.
In conclusion, this was the best 12 days of my life. Not that each day contributed to the top 12 days I've ever experienced, but as a whole, I am so thankful I was able to travel around with two of my favorite people. The road trip gods blessed us with good weather, high spirits, and great luck. We drove around 3,000 km and almost ever house, store, downtown, and random building on the side of the road was flying an All Blacks flag. It was a good time to travel around and see NZ at her proudest. My heart aches when I think about leaving.