This entry is a tool of procrastination. I am supposed to be writing a 2500-word paper to wrap up my Semester Start-Up Program, but I am sick of writing in the third person, so here I am in all of my personal pronoun-laced glory. I. ME. MY. This feels good. (I just finished reading the autobiography of Gerald of Wales, a rather unpleasant individual who writes in third person and sounds extremely pompous whilst doing so. This has tainted everything about that grammatical person in my mind.) I will likely finish writing the paper before I even publish this, but I probably won't remove this paragraph because I will be too lazy to think of another introduction. (UPDATE: This is exactly what happened.)
Where do I even begin. I just completed this semester-long course in three weeks, so needless to say my life has been busy. This program was one of the things I was most looking forward to upon my arrival to Ireland, and not just because it let me get over here nearly a month before the start of term. This was one of the best classes I have ever taken; it taught me so much about the history, culture, and literature of Ireland that all of it is now spilling out of my brain and mouth and any other orifices it can find and onto whatever unsuspecting text box or human is near.  The title of the module, "Understanding Ireland," is a fairly accurate description of what it entailed. Even though the School of Histories and Humanities organised it, it combined lectures from the Literature, History, and History of Art departments. Its content spanned all areas of Irish history and culture: James Joyce & Classics, The 1798 Rebellion, Book of Kells and Insular Manuscripts, Architecture and History of Trinity College, and Irish Film, among others.
Perhaps the best things about this course, however, were the field trips that accompanied these lectures. Oh, we have a History of Art lecture on Early Irish Metalwork? Better go to the National Museum of Ireland to look at them in person! We'll be learning about The Irish Revolution? Let's mosey over to Kilmainham Gaol and see where the leaders of the Easter Rising were executed! And I guess we might as well watch a play at the Peacock Theatre since we're here.
Three trips in particular stuck out as particularly fun and interesting in my mind. If any of you ever find yourself in Dublin, try to make it to Croke Park. Remember when I talked about Gaelic football and hurling in my previous post? Well, this is the stadium where the professionals do it. Only they aren't professionals. All of the GAA (Gaelic Athletic Association) players are amateurs who play simply for the love of the game, not for a salary or free university or whatever else we bribe people with in the States. They all have day jobs. The men on that pitch are more than just athletes; they are your next-door neighbour, your child's teacher, or the guy behind the Tesco till. And that locality brings with it a rabid fan base. Ireland, you're doing it right.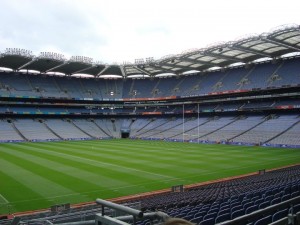 Anyway, we received a private tour of the entire facility and learned all about the history of both the stadium and the GAA. We saw the team lounges, locker rooms, pitch, and seats so high up that they offer vertigo refunds. The tour ended with some exploration of the GAA museum, which is cool if you like looking at old things that have some athletic significance. And it just so happened that GAA Football All-Ireland Senior Championship was the following weekend. Relevant field trip is relevant? My flatmates and I, obviously hardcore fans by this point, donned our blue and went to our local for the match. Did I mention that Dublin was playing in it? AND THAT DUBLIN WON?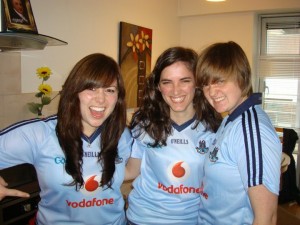 Let's just say the city went ball-istic…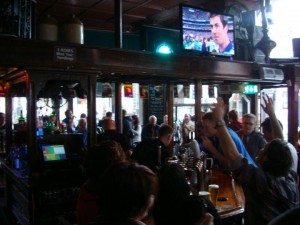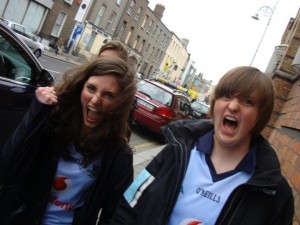 The following week, we embarked on an excursion to County Meath. We spent most of the day climbing around the ruins of Trim Caste, which was pretty cool as far as 11th century castles go. I did have a moment where my Puget Sound liberal arts education was actually relevant to real life, though! While I stood on the roof and surveyed the surrounding lands, I noticed some familiar looking stone things not far off. Then I remembered. This is the town of Trim. THIS IS WHERE WILLIAM ROWAN HAMILTON GREW UP. And those familiar stone things were the buildings where Hamilton studied as a boy! He read Latin and Greek while strolling along that riverbank! I AM WALKING ALONG THAT SAME RIVERBANK! OH MY GOD. I wrote my final paper for my Honors 212 class exclusively on Hamilton, and now know way more than I should about this one dead Irish guy. Everything came flooding back to me as I stood atop the castle, and I even impressed (terrified?) the tour guide with my knowledge of Hamilton's life and theories. O how I love that Natural Scientific core requirement!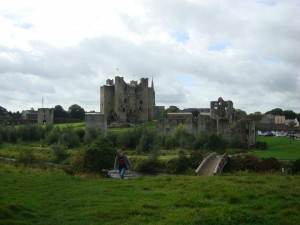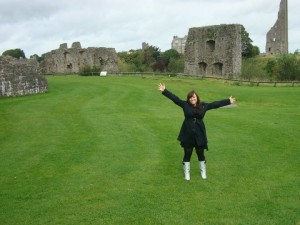 We also went to the Hill of Tara, which is basically a huge archaeological complex of grassy mounds and trenches that was once used as the seat for the High Kings of Ireland. It is a good place to frolic.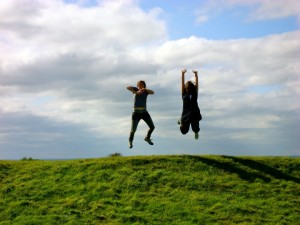 Perhaps my favourite thing we did, however, was The Dublin Literary Pub Crawl. Yes, you read that correctly. A pub crawl. Filled. WITH. LITERATURE! And did I mention that it was organised and attended by my Literature lecturers? I remain convinced that this is the best assignment I will ever receive. We were herded around to a number of pubs frequented by the Irish literary greats, listened to some prose while sipping on pints of Guinness, and ended the night at the infamous Davy Byrnes. (Any other Joyce nerds freaking out about this?) Let it be known that I emerged victorious from the trivia contest and received this shirt: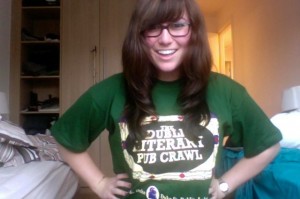 Although this post makes it seem like I never saw the inside of a classroom during the Semester Start-Up Program, I assure you all that there was actual learning and reading and writing happening throughout those few weeks.  Now that I my real classes are well underway (more on them later), I can safely say that I am absolutely in love with Trinity as an academic institution.  Who knew that the "study" part of "study abroad" could be this awesome?