The crew: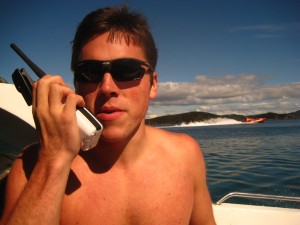 After our meticulously planned Cook Islands trip, I got off the plane in Auckland with my friends Chris and Connor with absolutely no plans. I'm just going to be one of those people who brags about how long we had been awake, but we woke up around 7:30am Thursday morning in Rarotonga, got on the plane at 2:00am Friday morning, arrived in Aucklack at 5:30am on Saturday morning…skipping Friday of course. So we was up for a long time. We struggled to make a decision in the airport, and ended up taking a bus to downtown, arranging a rental car, stashing our bags, walking around, eating pastries, getting coffee, and tracking down some wireless. Chris's flatmates were traveling around NZ for the break, and were going to be in the northern part right when we got there. By 8:00am we had our plan and rented a thuper cute turquoise hatchback and drove off to the bay of islands. We stopped for lunch in Whangarei, which was chillin. Our sleeplessness caught up to us, but after a few strange visits to surrounding towns we decided to stay in Paihia and wandered around like the aimless youth we are to find the best deal for where to stay. And by best deal I mean best pimped out apartment with my own beautiful king size bed.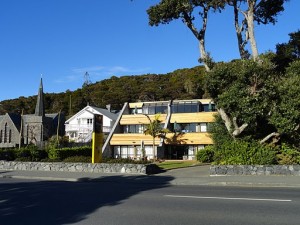 We laughed about how tired we were, sat in the hot tub, ate some food, drank some Tui, and fell asleep by 7:30pm.
Which means the next day we were up and at 'em. We met up with the Canadians and rented a boat and zipped around the Bay of Islands, which was wayyyyyyyy fun.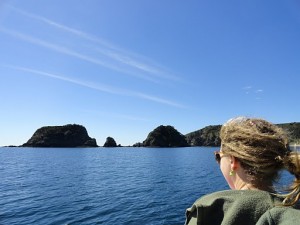 So for the rest of the day we just drove around the top of the north island, which was beautiful. That's where the rolling green hills and sheep and mountains and amazing blue water is. And it's warm up there.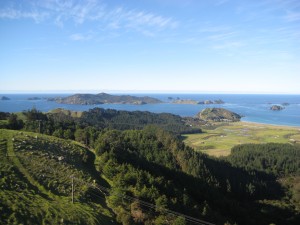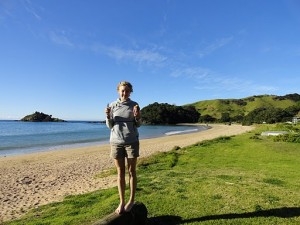 The next day started with a delicious apple and kiwi crumble and a flat white (your typical nz coffee and milk) for breakfast, and we got on the road right away. We went to the Coromandel Peninsula just at the perfect time to take advantage of the thermal waters underneath the sand by digging out our own little hot pool. It's a popular destination, but was sweet none the less, although that water got hot as.
We ended up in Auckland that night and stayed at a massive YHA hostel. We met up with Connor's friend from school, I demolished an impressive plate of ribs, and we called it a night as we had to wake up at 5am for our flight home! Fortunately, a huge group of French kids had to wake up at 4:30am so it was no problem!
It was a crazy 10 days, but I was definitely ready to go home after all the traveling. I needed somewhere to root myself to for a little bit at least. Although I am PSYCHED for our road trip that is fast approaching. I moved out of my homestay…they had to renovate their house and the EQC (insurance company that is causing lots and lots of commotion) wants to fix the green zone before they tackle the red zone. Or they're just waiting for more earthquakes, which probably isn't stupid, there's been a 4.7, 4.9, and a 4.4 in recent days. And since moving to the second floor I feel them a whole lot stronger. Living dangerously.
But yeah, I'm in the Ilam apartments now. Which is just a strange little village of international kids, randos, and kiwis.
Gonna miss that fruit.