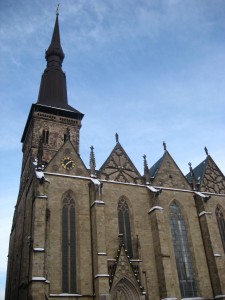 I'd like to take the time right now to thank whoever was in charge of the Hunt Middle School (Tacoma, WA) students' schedules during the 2000-2001 academic year. I've always been selfish and just pinned it to fate and coincidence that I was put into that 7th grade German class run by the lovely Mrs. Hockman (formerly known as Ms. Miles in those days). It was really that beautiful person who decided that the two French classes for 7th graders were too full to put an ordinary girl by the name of Jill Nguyen into her first choice for her language elective. Thank you thank you thank you x 1,000,000 times! I am forever indebted to that stranger. Look where that small, administrative decision has taken me 10 years later. (Side-note: Whoa…that was 10 years ago? I think I'm getting…old!)
(A church in Osnabrück)
Many people are a bit flabbergasted by my love for Christmas (read: German Christmas). I absolutely love Christmas! What…a Buddhist can't enjoy Christmas? I'll have to explain myself then.
Imagine yourself perusing the Christmas markets in the snow. Colorful wares stand out from various stalls. The delicious smells of the food drift toward you from all directions. Too cold? You head over to a Glühwein stall and order a cup of one of at least three different offerings of the hot wine. A choir sings Christmas carols nearby as you try to decide whether you should get your best friend a wooden Christmas ornament or the little nutcracker.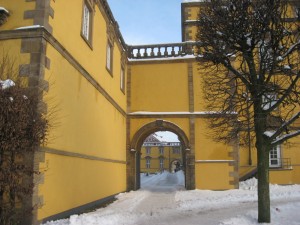 The palace-turned-academic building in Osnabrück.
My siblings arrived on the American and British Christmas day, which takes place on the 25th. The Germans celebrate Christmas on the evening of the 24th, although they do extend their festivities until the 26th. One extra day of Christmas festivities? Sounds like a good deal to me (one additional reason to live in Germany, by the way). Jamie and Jason were obviously quite jet-lagged upon their arrival, but thank goodness their flights were not heavily delayed! Heathrow was shut down for about a week and the Berlin airports did not have enough de-icing fluids. Really, Berlin? Come on…you've experienced two years of actual winter and you're going to not prepare yourself adequately for this winter?
Apropos transportation fails: S-bahn Berlin, Deutsche Bahn (the German national railway company) and Berlin airports? Did you think that you guys won't ever see snow again? There has been an uproar about delayed flights, train connections and public transportation mishaps in the past month. I guess it's Merry Christmas from your German transportation-related companies?