One thing that's been making it difficult for me to get in a lot of cooking or learn many new recipes is the convenience of eating out in Taiwan. Eating out is so convenient, that a majority of the Taiwanese that I have met do not cook. Restaurants are ubiquitous in a way that is quite different than the US. It's plain hard to not find a restaurant within sight. Maybe I haven't lived in enough big cities back in the states, and my conception of eating out is too formed by a smaller town dynamic, but, eating out is just, well, ridiculously convenient here.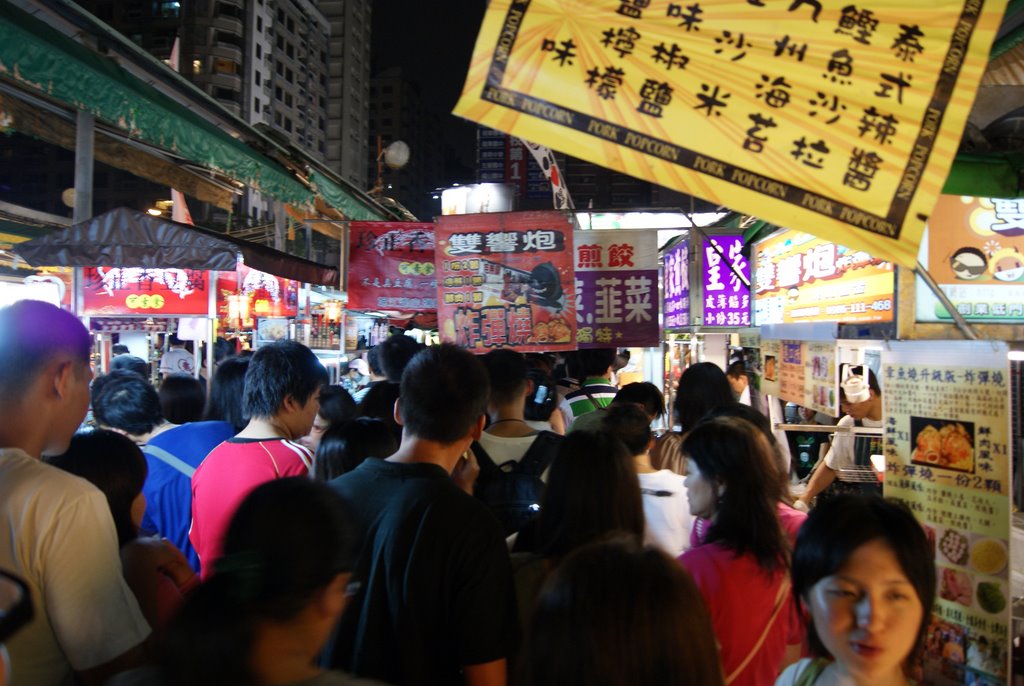 An aspect of Taiwanese cuisine that I've never seen anywhere else, are the night markets. Night markets are noisy, crowded and hot. Hot from the folks you're rubbin up against as well as the variety of exposed griddles, barbecues, friers and burners. Full of stands of some or another famous taiwanese dish, it's too easy to satisfy that end of a long, sweatyday hunger that comes with the hot climate and a full day. Back when I was just getting to Taiwan, roaming the night markets looking for a unique, tasty meal, I would want to see all the stands, and get an idea of all my options. Sure these steamed buns look great, but, what's around the next bend?! This usually backfired. While I was walking around,
hungry from the day and getting hungrier from the heat and effort of rolling through such a crowd I would always get to a point when I was so hungry, I would just buy the first thing I saw, which led to more than a few disappointments. Luckily, I have enough of an idea to know what I'm in the mood for, can identify, and ask for in Chinese the things that I want, which has taken a really long time.
Every neighborhood has a night market, and if there's not a night market proper, the streets are still full of food, local cuisine, Chinese food from every tradition, or stands offering the most popular taiwanese delicacies. Not only is the food tasty beyond articulation, it's also the most inexpensive nourishment I've ever received.
The Guanghua night market, close to my place is more a drive-through type market, which makes it fun for walking. The sidewalks are inaccessible, because that's where all the seating and cooking goes on, so people without scooters are forced to share the roads with everyone who's swinging through in their vehicles to get something to bag and take home. So, it's fun dodging traffic andlooking at food. This market is famous for it's squid and eel noodle dishes.
Ruifeng is the most popular night market in Kaohsiung, which means its absolutely packed every night it's open, and especially on weekends. I had a great time taking my folks through here. I had a nice simple beef and onion sandwich on some squid ink bread, but fried squid seems to be one of the most popular eats here, there's also plenty of stinky tofu stands.
Shida is my favorite one up in Taipei, not the biggest one, but its probably the most cosmopolitan because of its proximity to universities and foreign students. Its walkable and full of great eats.
So, I'm trying to cook more, but it's tough when my environment is so conducive to eating out. Speaking of which, I'm off for some dumplings, I'll have a few curry ones, and a few spicier kimchi dumpllings. mmmmm.