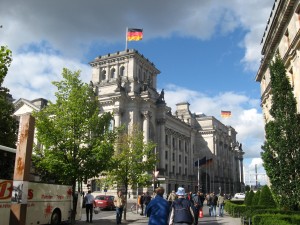 The picture on the right was taken on the Saturday before last, which was the same day I had gone to see the Brandenburger Tor. I didn't realize that the picture would come out so well.
I promised an extra post as well as something more light-hearted. I already know which topic I'm going to write about for the next post, so I'm very grateful that this one will not involve anything bureaucratic or any experiences remotely stressful.
I'd actually like to introduce you to my apartment. Although it's set up as a student-living apartment, the process of securing this lovely room is by far one of my proudest achievements in my slow crawl towards true adulthood.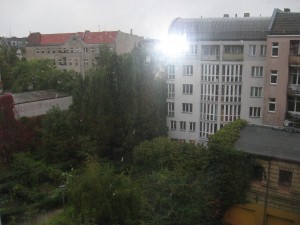 The above picture is the view from the kitchen. I live on the American 5th floor, German 4th floor and with no elevator nor escalator to whisk me to my lovely flat (my British flatmate is rubbing off on me and I find myself adopting his vocabulary). This is a lovely view not only because we get to sometimes do some neighbor-watching when in the kitchen, but the garden down below is simply lovely to look at. We're actually not allowed to enjoy the garden ourselves, which is a shame, but it's nice to have some green in our so-called backyard.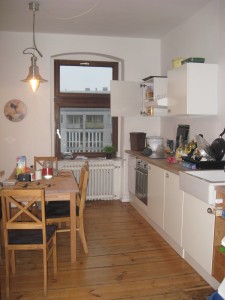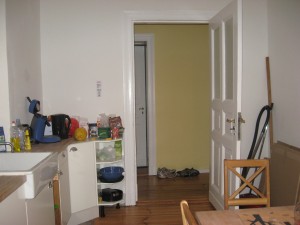 The first picture is the view of the kitchen facing the window that looks out into the garden and the neighboring buildings. If you turn around, that's the other side of the kitchen you'd see. The landlady and landlord are going to install more cabinets/cupboards for us in the kitchen since they're always in the process of renovating and refurbishing the apartment. The floors are hard-wood (yesss!) and most of the furniture has been purchased from Ikea. Also: the walls of the entire apartment were painted a year-and-a-half ago (the hard-wood floors are also new).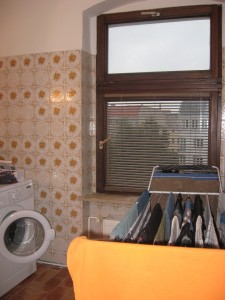 The two pictures above are not in the same room. German households usually have the toilet separated from the actual bathroom portion, so we have one room entirely tucked away just for the toilet. I'm not going to show an explicit amount of photos, so you'll have to bear with me in imagining the bathroom but I took a picture of the most important details. Everyone can understand the concept of bathtub, mirror, sink, a storage unit for one's bathroom needs, and hooks for towels. However, because German living conditions are so cramped (Germany is the area of Montana with about 81 million people), the Germans usually have the washing machine in the bathroom. My bathroom is very big, so it's still spacious despite living with two other people and having the washer there as well. Most importantly, we don't have a dryer. Many Germans go without a dryer, although many do own one. I was lucky enough to have two dryers in my entire building my junior year abroad in Munich. However, this time around, I'm toughing it out German-style. My British flatmate was surprised that I had never dried my own clothing before. Ok…well…that's a lie because I've dried them before once this summer as a practice round for myself in my garage (yes, I'm a nerd) and while I was in Paris last summer with my siblings and two good friends. The clothes turn out "crispy" without the dryer but if you use an adequate amount of fabric softener, which I finally bought last week, then the crispiness of the clothing greatly decreases. Can I just add that I'm so relieved that I have normal, girly underwear from Victoria's Secret? Living with two men and having really embarrassing underwear is in no way a great appeal to me.
The other important detail I want to point out is the window. Do you see the blinds? They weren't there until earlier this week. That means that I had to open the window, place a small part of the top of a blanket in the opening and close the window to have some privacy. There's a screen on one side of the bathtub to prevent the water from splashing all over the floor but if one were to concentrate, I'm sure one could see the outlines of a naked person showering. The guys didn't care and so didn't bother with covering the window like I did (I got the idea of covering the window, by the way, from one of the former guys who used to live here. He did the same thing I did but with his Slovakian flag, which we actually used for the first week-and-a-half before he completely moved out of his room.). I was horrified at the thought of not having a curtain or blinds there. Thank goodness, P (British flatmate) asked the landlord and landlady for a solution. They happily obliged. And not a moment too soon because it was getting quite tedious just to shower.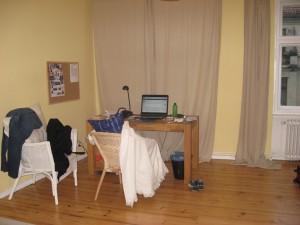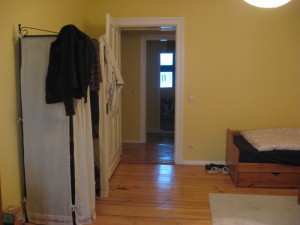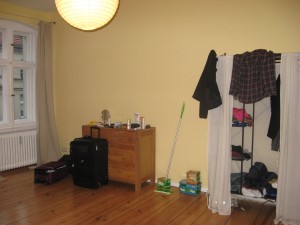 And finally: my room. It is a ginormous room for sure. The other suitcases are, for the record, not mine (the ones lying on the ground). My friend left some of his stuff over at my place b/c I have so much room. The only suitcase I brought with me is the one standing up and leaning against the dresser. Yep…I managed to bring only that suitcase filled with 50 lbs. of clothing and some hygienic products. I also brought a duffle as my carry-on and my laptop bag as well. The room is still pretty empty but unlike most people, I'm at peace with not having anything on my walls. I have a cork board, which is nice, especially because my landlord put it up about two weeks ago for me. Very very, sweet man. His wife is lovely too. I'll go museums soon enough and get posters of my favorite paintings to put up. I'm really happy that I have my Mariners calendar up (this month is Ichiro!!!). Baseball has a wonderful effect on me.
I'll explain more about my pre-departure experiences at a later date. But you all should know that I really really love living here. My flatmates are wonderful, the apartment is always clean, we all love having guests over and the entire atmosphere of this place is plain and simple: comfortable. I feel very much at home here and already know that I will dearly miss this living situation when I leave next July.
P.S. My room was entirely furnished with: desk, two chairs, rug, lamp, cork board, curtains, dresser, portable closet, bed, mattress, bed lamp and an extra mattress under my bed.