Valparaíso is undeniably a city of artists. From artisan markets to painters on the beach to poetry on the walls and throughout the history of Chile, art permeates the atmosphere of Valparaíso. Perhaps it is the profundity of the ocean and the audacity of the people that evoke a sense of creativity I've never before encountered. And the best part is, you don't have to go to a museum to see it. In fact, all you have to do is take a walk on one of the hundreds of winding streets throughout the city to be blown away by the graffiti created by Porteños (residents of this port city).
I took a ride on one of Valparaíso's many funiculars (Cerro Concepcion) last weekend to catch a glimpse of some public art and a great view of the port. According to my guidebook, Valparaíso has 15 funiculars, and the oldest dates back to 1883. At first glance, they look like the sort of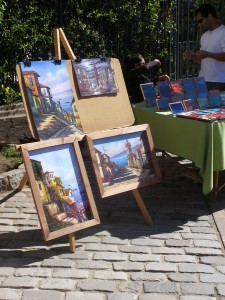 contraption you would think twice before risking your life riding on, but apparently they are actually quite safe. And funiculars (or "ascensors" if you're in Chile) are a perfect way to access tops of the sprawling, incredibly steep hills that compose the upper part of the city. Plus, there's a great view of the port. Many of the colorful houses this city is famous for are perched on precarious edges of massive hills. Look down a hill, there are twisting streets, interesting architecture, and the industrial yet stunning port. Look up, and see rickety old houses seemingly hanging off the hills. The paint on the houses and the walls may be faded, but there is such a beautiful mix of art and architecture. And odd little details, like the funny statues above, make for unique destinations. Vendors selling gorgeous paintings and jewelry also proliferate the top of Cerro Concepcion, as seen in the picture to the right.

I'll share a few more pictures to give you a taste of the atmosphere of Valparaíso, because words can only partially describe the uniqueness of this city nicknamed "Pearl of the Pacific."