Wow! Time does fly. I can't believe that I am finishing up my internship at the Foundling Museum this week! I am not quite leaving London yet, but it does make me more keenly aware of the fact that soon, I will be returning to the states. I am in total denial. I had such a great time there, and also had the opportunity to learn a lot and work with some great people. Who could ask for more! In the last week of my internship, I was able to give my own gallery talk about the founder of the Foundling Hospital, Thomas Coram. This was a great experience because I got to plan and research the whole thing. Ironically, although I came to England and learned about Coram, it turns out that many primary sources about his early life are in America! He lived there for ten years. Go figure! Nevertheless, I was able to gather information and develop a talk , which is good practice for any later presentations I may need to do (*cough* thesis *cough*). After a lot of preparation, it is really great to see something through and finally give the speech you have planned. I chose to give the talk in front of Thomas Coram's portrait by Hogarth, and was initially a little nervous. But after I was able to do it once, the nerves went away.
What else have I been up to? Well with one of the classes I am taking we had a field trip to the London 2012 Olympic site. I am not exactly interested in the Olympics or large sports events in general, but all the same, it is interesting to learn about how it is being set up.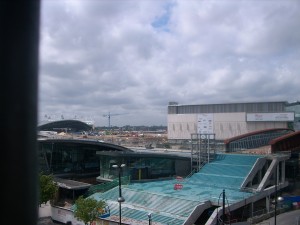 At the moment there isn't actually that much to see, it just looks like a MASSIVE construction site. With security. LOTS of security!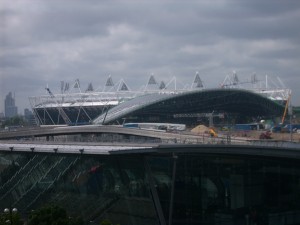 The sheer size of the site is also pretty impressive. This is one of the stadiums.
All the plans to get everything set up are underway. I still wonder how it will all work. It seems to be a very complex operation, comprising not only of actually constructing the athletic site, but also planning the "Cultural Olympiad", accommodation and expanding the transport network. As someone who has used London transport at rush hour, I can't imagine how it would be with even more people! So in 2012 we will see how everything is set up.
I also had a visit to the docklands, and canary wharf. There is a great Museum of the Docklands which has all the history of London as a port. It is interesting just how important water transport and commerce was/is. As someone who grew up without a major port (or many large bodies of water!) near Las Vegas, I find that older cities relationships with water are fascinating.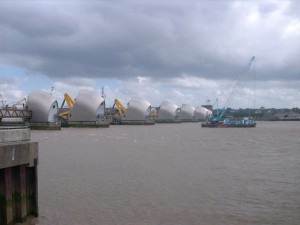 This is the shell, which can apparently be enacted to block off the Thames and protect London in the event of a rapid water rise.
And lastly a funny and random experience with royalty. When they find out that I am abroad in London, lot of people jokingly say something like "Oh have you seen the Queen?" I have the urge to say something like, "Well no actually, she doesn't usually just wander around" or if I am feeling particularly sarcastic, "Yeah, I run into her all the time at Tescos". Because in fact, as I have found out many Brits haven't actually seen her. Earlier in my time here, I found out that it was the Trooping of the Color, public event which the Queen attends to celebrate her official birthday every year. So I did go to that, and I did see her from a distance. That was really cool. At the very least I could answer the "have you seen her question" quite simply with little fuss. (I have a video of that actually here)
But just recently, I had cut through Green Park and was waiting to cross the street by Buckingham Palace, (just walking, no plans to see her or anything) and these secret service men tell everyone on our side of the road not to cross. He didn't say why and I first I didn't quite understand what the deal was, because the little green walk man was lit up. But as I glanced to my left I saw that a group of cars was passing the crossing. The second car up, just rounding the corner where I stood, was a Range Rover, with the Queen in the back. BAM no time for a picture, barely anytime to register that it was her. Then the cars were at the gate to the palace driving in and that was it! Random, but a great memory. Still, if I were asked that question again, I would maintain that generally people don't see her. Certainly not twice…
Except the lucky ones 😉