Hi, everyone!
I'm sorry that I have been so absent the past month, but I promise that my life has not been TOO interesting since I got back from my European spring break. You may remember that I had two large exams on the 13th and 18th, so I was studying for those and I found myself either in the library or at my desk about 80% of the time. See? It was practically like being back in Tacoma! Exams ended yesterday, though, and now I'm taking advantage of my last eleven days in Scotland to see some things that I haven't been able to yet. Today, for example, I tried a fried Mars Bar. It's just what it sounds like… an entire Mars Bar (similar to Milky Way, but better) is dipped into batter, and then fried. My friend and I split one, and felt like our arteries were sufficiently clogged after two bites. It was good, but honestly the best part was the gooey caramel, and that could be achieved without frying it! Here's a picture of the 'delicacy':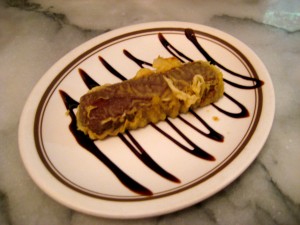 I am also taking advantage of the warmer weather (it's all relative, though, because after a 64-degree high yesterday, my friends and I decided that was 'hot') and the longer days to just wanter around Edinburgh after dinnertime. I discovered during Spring Break that I often like cities at night better than I like them during the day… and as much as I LOVE Edinburgh during the day, it may be even better in the evening!
Today, two important things are happening. First, my friend, Alison, is leaving today. She is the first of my close friends to leave Scotland… and it's the first major reminder that, yes, this is all coming to an end. More goodbyes are still ahead, and I know they will only get harder, but I truly hope that I can stay in touch with the dear friends that I have made this semester. Most of them go to Brown and Wellesley, which are both very close to Boston, so I'm hoping to take a trip to Boston next fall over Fall Break in mid-October. I hope it works out!
The second thing happening today is that I am flying to Galway, Ireland with my flatmate! We are arriving late tonight, and then spending Friday, Saturday, and Sunday in Galway. We fly back to Edinburgh on Sunday, exactly one week before I'll be BACK at the Edinburgh Airport to take a much  longer flight back to Portland. I'm really excited to visit Galway. I've heard that the people are really friendly and, of course, the scenery is supposed to be breathtaking!! We have plans to visit both the Cliffs of Moher and the Aran Islands. 🙂 I'll post pictures from our weekend away after I get back next week. (I'm also planning a trip to the Scottish Highlands next Tuesday, so there will be LOTS of scenery in my next post, I'm sure.)
I have to get packing for our flight tonight (I'm restricted to one backpack for the three days… wish me luck on fitting everything). I hope all the Loggers are enjoying summer and, to any other study abroad participants out there, I hope you have either made it safely back to the states, or are enjoying your last few days/weeks abroad as much as I am. It is truly an amazing once-in-a-lifetime experience, and I urge you to take advantage of every moment. Cheers!