As I sit here on the fifth floor of the Edinburgh Library, looking out over the beautiful city I have been living in for the past 9 weeks, I should be writing the last 150 words of my Celtic Civilisations essay, but I have decided instead to update you all on my adventures over the past week and a half or so. I fear my life is getting more and more normal, but I still try to take a daytrip outside of the city most weekends, and in two short weeks, I will be in London on Spring Break! From London, I will travel for 3 weeks to Rome, Prague, Vienna, Munich, and Paris. Needless to say, I'm VERY excited!! Although the anonymity of studying abroad with hundreds of other students at a Uni of nearly 25,000 can be frustrating at times, I have to say that Spring Break was one time that I was glad that I didn't have anyone planning for me. My 3 friends and I got to choose our timeline, our destinations, and how we wanted to get there. Our European Extravaganza should be full of amazing stories and pictures, and I'm excited to visit some Puget Sound friends in their respective study abroad environments!
Anyway, I have had 2 major papers due already this month, and I have another due on Monday (the one I should be writing right now). Although the start of this semester was ridiculously easy, I now finally feel like I am truly STUDYING abroad. Spring break will bring some respite from the hours in the library, but I have two finals in May that I will have to study very hard for once I return on April 19th. We are done with classes as of March 26th, but that just means that the study expectations for finals (mine are May 13th and 18th) are that much higher. More on that in a future entry!
Last weekend, I went on an ISC-sponsored trip to Loch Lomond. You may recognize the name of the loch (lake) from the song that goes,
Oh, you take the high road and I'll take the low road
And I'll get to Scotland 'afore you
But me and my true love will never meet again
On the bonnie, bonnie banks of Loch Lomond.
The banks were certainly bonnie (beautiful), and the weather was quite warm. We all dressed in our normal winter coats, books, scarves, and gloves… but the layers soon came off after we started exploring, and we were able to last most of the day in just a long-sleeved t-shirt. The weather in Edinburgh has in fact warmed up to between 45 and 50 degrees each day, which has been amazing! The scenery was the best part of our Loch Lomond adventure, so here are some pictures to demonstrate: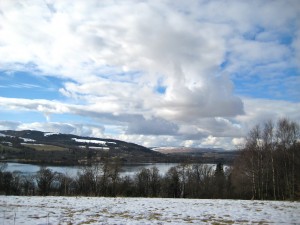 And, of course, we couldn't resist the opportunity for a couple of group pictures:
(That's me on the left, and my two friends, Bri and Jackie rounding out the picture.)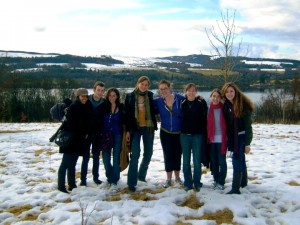 The whole group!
With every new place I go, I am convinced more and more that Scotland is one of the most beautiful places on earth… and I haven't even been to the Highlands yet! (Don't worry… we are planning a trip for late April or early May to see them once all the snow up north has melted.) I hope these pictures convey some of it's beauty, too.
One more fun thing I did in the last week was to go to the ballet. We saw a dance interpretation of Wuthering Heights, and it was amazing. The tickets were only £8.50, too, so who can complain about a fun night out, some Scottish culture, and a great pricetag?
Tomorrow, my friend from Tacoma is coming to visit, and Wednesday marks the halfway point of my time abroad! I'm pretty excited for both, but I can't even believe that I have already lived half of this amazing experience (and I can't wait for the next half). Having KK here will be really fun, and will force me to do some of the touristy things that I have yet to do. It will also be fun to have a friend from home meet all my Edinburgh friends. Oh, and, of course, Wednesday is St Patricks Day! It's a MUCH bigger deal in Ireland, so it will probably be pretty laid back for me… maybe we'll make it to a pub to enjoy a pint and some good company. 🙂
I hope that all the Loggers reading this are enjoying your Spring Break! You all deserve the week to relax. Until next time… Cheers!