Continuing our celebration of Women's History Month and last year's 100th anniversary of the passage of the 19th Amendment, we recommend these digital collections featuring a wide variety of primary sources related to women's suffrage and women's political organizing in the United States.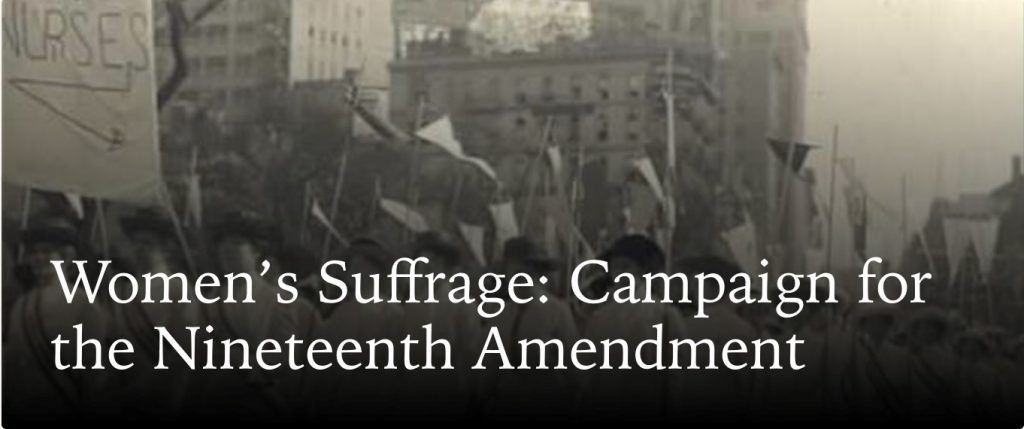 Women's Suffrage: Campaign for the Nineteenth Amendment is a primary source set from the Digital Public Library of America (DPLA) that documents women's struggle for voting rights in the United States and the eventual passage of the 19th Amendment. Sources featured include photographs, advertisements, maps, and other documents that shed light on this historic moment in U.S. history. Dig deeper with DPLA's additional primary source sets related to other eras and aspects of women's history.
Although the 19th Amendment states that voting rights should not be denied on the basis of gender, the reality was that the vast majority of women who were able to vote after its ratification in 1920 were white; most Black women and all Native American women remained disenfranchised for decades due to a tangled web of exclusionary laws and policies. The Black Women's Suffrage Digital Collection is a collaborative project from the Digital Public Library of America and their academic partners to provide access to primary source materials "documenting the roles and experiences of Black Women in the Women's Suffrage Movement and, more broadly, women's rights, voting rights, and civic activism between the 1850s and 1960."
The Women's Rights page on DocsTeach features primary sources from the National Archives and document-based teaching activities related to women's rights and changing roles in American history – including women's suffrage, political involvement, citizenship rights, roles during the world wars, the Equal Rights Amendment (ERA), and more.