Women's History Month encourages reflection and engagement with women's historical and contemporary contributions to American society, but what of the future?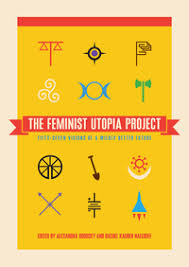 In The Feminist Utopia Project: fifty-seven visions of a wildly better future, editors Alexandra Brodsky and Rachel Kauder Nalebuff combine over 50 contemporary voices and invite us to imagine a truly feminist world. Among the many writers represented in this collection are Melissa Harris-Perry, Janet Mock, Sheila Heti, and Mia McKenzie, Joey Soloway, Mariame Kaba, and many more. Their contributions cover a wide range of topics, including reproductive rights, justice, empathy, body image, parenting and employment. These selections challenge the status quo that accepts inequality and violence as a given, "offering playful, earnest, challenging, and hopeful versions of our collective future in the form of creative nonfiction, fiction, visual art, poetry, and more" (Library Journal).
Available to read now as an ebook!