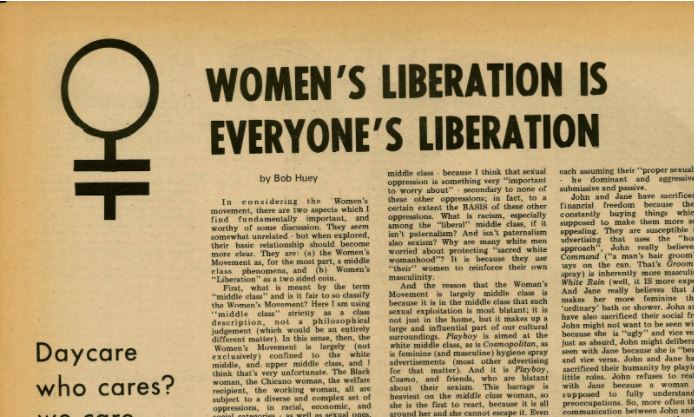 In Fall 2020, students, faculty, and staff celebrated the arrival of Puget Sound's new academic major in Gender & Queer Studies, but did you know that the university has offered courses in Women's Studies since 1972?
As reported in the November 5, 1971 issue of The Trail (pg. 9), the first was an introductory course titled "Women in American Society," which promised to "foster an understanding of the contemporary situation of women through historical introspection." To generate interest and promote the new course to the campus community, students coordinated a special women's issue of The Trail published in December 1971. This fascinating issue features contributors engaging with a variety of topics reflecting the agenda and concerns of the national women's movement in the 1960s and 1970s, as well as competing perspectives on feminism from Puget Sound students.
Like many early Women's Studies programs, University of Puget Sound's program experienced its share of growing pains and other difficulties due to limited administrative support, budgets, staffing, and resources, in addition to broader challenges to Women's Studies as a necessary, political, and academically valid field of study. Its survival, promotion, and continued development into our current GQS program relied on the interest, support, and dedication of a sometimes small, yet passionate group of students, faculty, and staff over the past (nearly) 50 years. Learn more about the history and development of the Gender & Queer Studies program at Puget Sound and gendered experience on campus through our University Historical Collections, which include digitized copies of The Trail, yearbooks, University Bulletins, and much more!