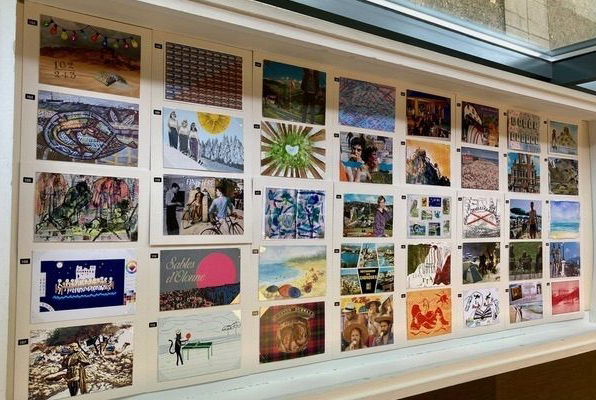 Jane Carlin, Library Director, had a chance to connect with Bristol, England based artist Linda Parr this past summer. As a result, Collins Library is pleased to share Parr's work in the Collins Library.
The display (in the Reading Room) showcases the project Postcards for Perec. Georges Perec was a French novelist and filmmaker. Linda Parr coordinated an international project in which artists created postcards to illustrate one of Perec's text. The idea of this project was to respond to Georges Perec's 243 imaginary postcard messages by making the missing images, then sending real postcards. There was an enthusiastic worldwide response, catching the imagination of students & professors, artists & writers, Perec scholars, translators, mathematicians and architects. (from: https://uwe-repository.worktribe.com/output/7815557/postcards-for-perec ).  All the images are documented on Instagram (just follow Postcards for Perec) or stop by Collins to view the postcard images!
Linda Parr is an English writer and artist. Parr's work is often inspired by literature; she enjoys close reading as an artist and the counterpoint of text and art. She has an MA in Multidisciplinary Printmaking from the University of the West of England in Bristol UK and is co-organizer of World Book Night collaborative projects. Her artists' books are held in national and international collections.