Collins Library recognizes Native American Heritage Month. 
Check out our display of books in the front of the library and browse through this resource: https://nativeamericanheritagemonth.gov/​ that provides links to a number of important primary sources.
---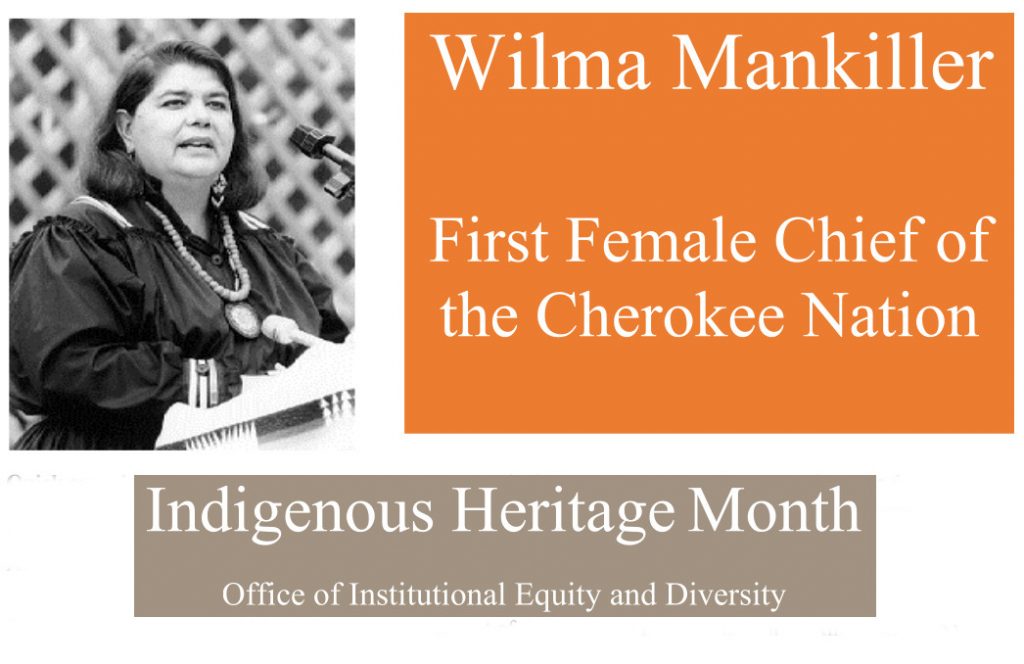 Wilma Mankiller
Quick overview: 
Wilma Mankiller was born in Tahlequah, Oklahoma, on November 18, 1945. Four decades later, in 1985, Mankiller became the first female principal chief of the Cherokee Nation. She sought to improve the nation's health care, education system and government. She decided not to seek re-election in 1995 due to ill health. After leaving office, Mankiller remained an activist for Native-American and women's rights until her death, on April 6, 2010, in Adair County, Oklahoma. 
Background:
Wilma Pearl Mankiller was a descendant of the Cherokee Indians, the Native Americans who were forced to leave their homelands in 1830s; she was also of Dutch and Irish descent. She grew up on Mankiller Flats, located near Rocky Mountain, Oklahoma, before moving with her family in the mid-1950s to San Francisco, California. Mankiller attended Skyline College and San Francisco State University in California before enrolling at Flaming Rainbow University in Oklahoma, where she earned a bachelor's degree in social sciences. Thereafter, she took graduate courses at the University of Arkansas. Wilma Mankiller ran for deputy chief of the Cherokee Nation in 1983 and won, subsequently serving in that position for two years. Then, in 1985, she was named the tribe's principal chief—making history as the first woman to serve as principal chief of the Cherokee people.
Death and Legacy: 
Wilma Mankiller was a leader to her people through difficult times. After leaving office, her activism on behalf of Native Americans and women continued. Wilma Mankiller died on April 6, 2010, at the age of 64, in Oklahoma. After learning of Mankiller's passing in 2010, President Barack Obama issued a statement about legendary Cherokee chief: "As the Cherokee Nation's first female chief, she transformed the nation-to-nation relationship between the Cherokee Nation and the federal government, and served as an inspiration to women in Indian Country and across America," he stated. "Her legacy will continue to encourage and motivate all who carry on her work."
Maria Tallchief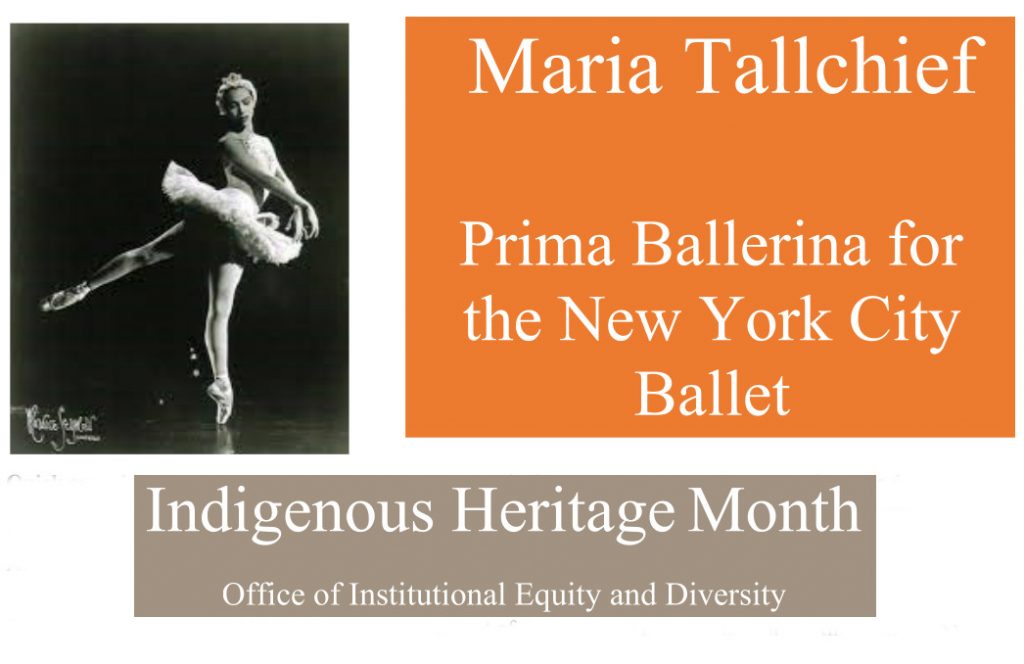 Quick overview:
Born Elizabeth Marie Tall Chief on January 24, 1925, in Fairfax, Oklahoma, Tallchief was one of the country's leading ballerinas from the 1940s to the '60s. The daughter of an Osage tribe member, she was also a trailblazer for Native Americans in the world of ballet. Tallchief grew up in Los Angeles, California, where she studied ballet for years, working with Ernest Belcher and Bronislava Nijinska.
Background:
During her early career, in the 1940s, Tallchief danced with the Ballet Russe de Monte Carlo. It was also around this time that she became known professionally as Maria Tallchief, combining the two parts of her Indian name. In 1947, she became the first prima ballerina of the New York City Ballet—a title that she would hold for the next 13 years. That same year, Tallchief became the first American to dance with the Paris Opera Ballet. In addition to her work with the NYCB and Paris Opera Ballet, she was a guest performer with the American Ballet Theatre.
Legacy: 
In 1996 Tallchief became one of only five artists to receive the Kennedy Center Honors for their artistic contributions in the United States. That same year, the dancer was inducted into the National Women's Hall of Fame. In 1999, Tallchief was awarded the National Medal of Arts, the highest award given to artists and arts patrons by the U.S. government, which honors individuals who "are deserving of special recognition by reason of their outstanding contributions to the excellence, growth, support and availability of the arts in the United States." Tallchief died on April 11, 2013, at the age of 88, at a hospital in Chicago, Illinois. She was survived by her daughter, Elise Paschen, her sister and fellow ballerina, Marjorie Tallchief, and two grandchildren.