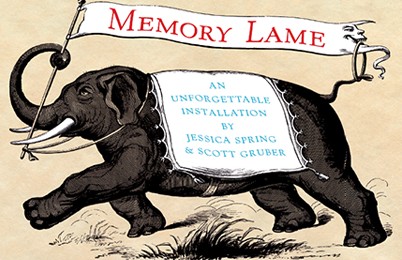 Memory Lame,
Exhibit open October 22–January 25, Collins Library.

A multi-faceted installation by Jessica Spring and Scott Gruber, "Memory Lame" focuses on retention and loss of memory, and our collective knowledge. As humans we employ many memory aids—from digital apps to old-fashioned mnemonic devices—to readily access facts we need. Derived from the Greek mnēmonikos and related to Mnemosyne, the mythological goddess of memory, mnemonics make use of encoding, retrieval cues and imagery to better retain information. Ancient Greeks identified two types of memory: "natural" is inborn and used instinctively; and the other "artificial," which one can train and develop. Commonly encountered mnemonics are often used for lists and in auditory form, such as acronyms or memorable phrases, but mnemonics can also be used in visual or kinesthetic forms.
Elements of the "Memory Lame" installation incorporate repurposed salvaged library journals and handmade paper. Abaca fiber is both strong and translucent, and includes a memory of its own formation, revealing papermaker's tears and areas of waves that appear like wrinkles. Recycled journals—rendered replaceable with digital surrogates—serve a new purpose while still in their library setting. These materials take physical form in the river of forgetfulness, the fountain of knowledge, and a memory palace surrounded by mnemonic devices that connect with our collective knowledge.
"Memory Lame" was funded with assistance from the Tacoma Arts Commission, and the Morgan Conservatory. Supported and funded by the Collins Memorial Library, University of Puget Sound.
______________________________________________
Jessica Spring learned to set real metal type in 1989 and has been a letterpress printer ever since, most recently inventing Daredevil Furniture to help other printers set type in circles, curves and angles. Her work at Springtide Press—artist books, broadsides and ephemera—is included in collections around the country and abroad. She also collaborates on the Dead Feminists broadside series with illustrator Chandler O'Leary. Their book, "Dead Feminists: Historical Heroines in Living Color" is available from Sasquatch Books. Spring has an MFA from Columbia College Chicago and teaches book arts at Pacific Lutheran University.
In the early 1980's Scott Gruber received formal training in how to see, understand what is being seen, and how to create objects & spaces that enhance what other people see. He earned a BFA in Sculpture from St. Cloud State University which translated to more than three decades of creating functional and non-functional three-dimensional art, ranging from jewelry, interior accessories, water features, totemic sculptures, and entire landscapes. Squeezed into this timeline is the operation of a commercial poultry and sheep farm which ended in 2017, and the ongoing nursery operation specializing in culinary and therapeutic plants. Under the name Calendula Farm & Earthworks, Scott feels very fortunate to get paid for playing in the dirt with rocks & sticks & things.