October is Archives Month and we are excited to celebrate! According to the Society of American Archivists, "Since 2006, American Archives Month has given the profession an opportunity to tell (or remind) people that items that are important to them are being preserved, cataloged, cared for, and made accessible by archivists." I believe the work of archives and archivists is incredibly important, and I encourage you to engage with us this month (and beyond!).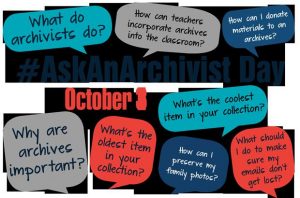 If you're interested in engaging with archivists around the country, consider participating in #AskAnArchivist Day, which is today, October 3rd! #AskAnArchivist is an opportunity to speak directly with archivists from across the United States to learn about the work they do and why they do it. Head to Twitter, type in the hashtag, send a question, or just follow the conversation.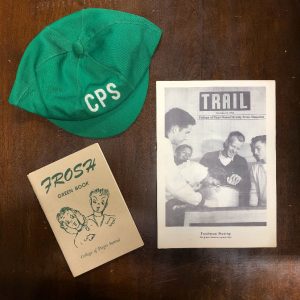 If you're interested in learning more about the Archives & Special Collections department at Puget Sound, visit the library for pop-up exhibits this month. One of our staff members will be on the first floor of the library for the next four Wednesdays with some of our favorite items for you to explore.
Our pop-up exhibits will be up between 12-2:00pm on:
Wednesday, Oct. 3rd:     Green Beanies at Puget Sound
Wednesday, Oct. 10th:   Scrapbooks
Wednesday, Oct. 17th:   Alternative Student Newspapers
Wednesday, Oct. 24th:   Election Ephemera
The Archives & Special Collections is located on the 2nd floor of Collins Library and open Tuesday through Friday from 10:00 a.m.-3:00 p.m. or by appointment.
By: Adriana Flores, Archivist and Special Collections Librarian