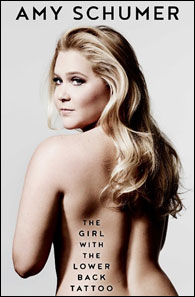 "Amy's got your back. She's in your corner. She's an honesty bomb. And she's coming for you." —Actress Tilda Swinton and Trainwreck co-star.
The Girl with the Lower Back Tattoo is a collection of personal essays ranging from the completely outrageous to the poignant and genuine. Amy Schumer proves to be an unexpectedly thoughtful storyteller, giving the reader a unique glimpse into her life before and after her rise to fame.
Find it in the Popular Reading Collection today!